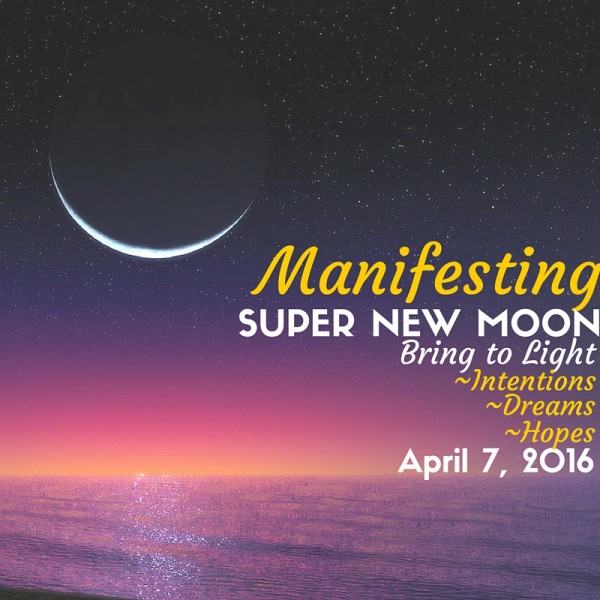 Manifesting
~ Super New Moon ~
April 7th, 2016 
We are looking forward to a Manifesting Super New Moon on Thursday, April 7th.
This is our the second of three consecutive Super New Moons. April is the strongest, most magnetizing super new moon for 2016 because it will be so close to earth.
Harness the natural momentum of change and transformation during this powerful time by claiming and naming your manifesting wishes, hopes and dreams. 
The natural energetic cycle of this super new moon can help you boost your courage to claim your new intentions, dreams and wishes. Yes, name it and claim it! Write it right (pen to paper — antenna to God/Source) with the sacred act of intention and bring to the light that which is ready to emerge and transform in your life. 
What is the new cycle for your soul's yearnings to express and manifest right now?
Name it and claim it. What is now ready for you?
We are cycling out of what has felt like a long, transitional time period. The manifesting shifts we seek can be called forth with manifesting momentum in this cycle. 
What has been a struggle or something taking a slow transition time to transform? A relationship status or situation? A money pattern? A work/career configuration? Physical challenge?
April's Super New Moon Cycle Brings:
1. Attention to Answers
2. Activating Actions
3. Acceptance of a Powerful Shift
Your April Manifesting New Moon Ritual can serve as a powerful catalyst for your courage to more strongly summon the connection to your soul's journey. All you have to do is look to your life and the stage that has been set to support your transforming intentions. Answers will emerge. Actions will be activated. And you can live with deep powerful acceptance of the shift taking shape within you.
Don't miss this powerful manifesting time to create a grounded connection between your big life dreams and visions and the everyday practical steps that will enable you to activate the power to unfold your dreams and visions with ease and grace.
Take this sacred time and use this powerful magical opportunity to boost your manifesting intentions into real dreams.
Shine On-
Namaste,
Anne
Listen on-demand to the "Holding Sacred Space Meditation Audio" 
inspired during a session of the "Soul Stamina Plan" journey.