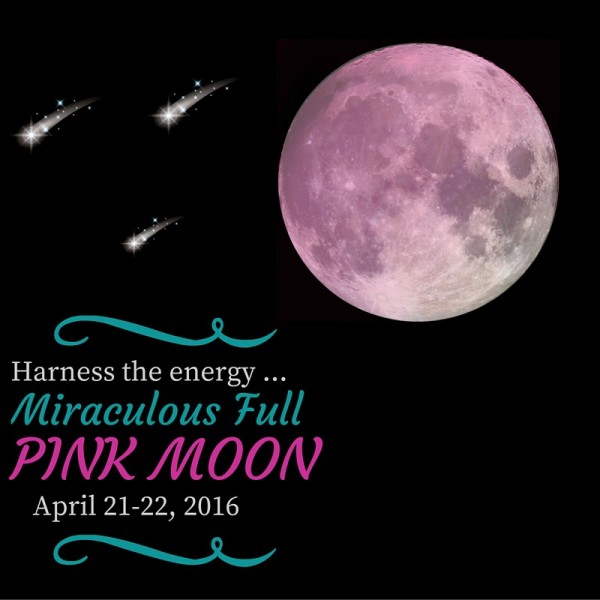 Miraculous April Pink Full Moon
April 21-22nd
Shooting Stars
Meteor Showers
Harness the energy. Let the blossoms of your heart felt desires become free with the Miraculous Full Moon Ritual.
The April Pink Full Moon is called the "Pink" Full Moon because of nature's synchronicity with the many spring blossoms opening up.
April's full moon comes with a display of shooting stars lighting the sky, reminding us of flowers blossoming.
Balance, heal and renew your heart's inner and outer dreams.
Time to open up and shine.
Get grounded to your heart, yet reach out to the light of your heart's dreams.
Allow the transformation and healing that is deeply desired from the core of YOU to break through and blossom!
"And the day came when the risk to remain tight in a bud was more painful than the risk it took to blossom." - Anais Nin
Give yourself sacred healing space, and settle the wrestling energies that can twist and turn you, leaving you with a scattered disorientation about your life. Feelings, emotions, situations left to run on their own internally without check-points of clearing can create confusion, restlessness, blockages, resentments, grievances, pain, recurring trauma, fears and suppressed resistance patterns.
The full moon ritual is a simple spiritual practice enabling you to check in and release collected layers that need to be shed and for you to surrender your heart's most truthful desires. 
Now is the time for letting deeply suppressed protective layers to be released for the promise of something fresh and new to shine in and through you.
April's Energy Focus:
1. Taking back your authority to author your own life. 
(Where do you need to stop giving your power away? When is it time to pull your power back to your center, your core? Clear your energy drains.)
2. Surrender and let go of life draining and restraining energy blocks.(Clear the space for new growth to blossom.) 
3. Let your heart's truthful desires shine like shooting stars.
(Unfurl. Unfold. Reach out. Open up. Shine your heart's light of truth.)
We naturally invite the healing illuminating light to make space for the miraculous to come through with new manifestations of possibility and promise.
Time to blossom.
Let your light shine.
Namaste,
Anne