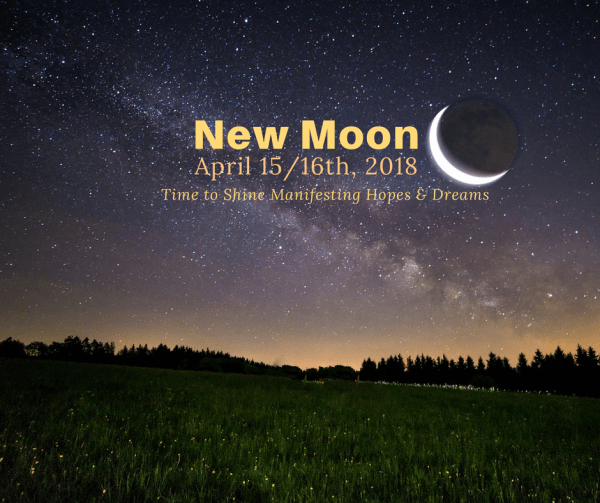 ~ April New Moon 15/16th 2018 ~
Have you been feeling a sense of something stretching you for a new life-shaping activation?
Relief and re-connection are here for you this weekend as the Mercury Retrograde period comes to a close, and the new moon cycle activates new beginnings.
This recent retrograde phase literally slowed things down for you to look more sharply at "what is right now".   New chapters can be written from the real place within you that creates your manifesting reality moving forward. You can reduce and release the fears that you truly feel might happen. Let yourself rest in the reassurance that you are being reset for the true alignment of your soul-inspired dreams.
APRIL Manifesting New Moon Focus:
1. LIFTING. LIBERATING. RISING.

Let whatever current fears have dimmed the light of your soul-inspired dreams be naturally dissolved in the light of your personal possibilities being activated for April. Move deeper into your faith of connection with Life, Source, Divine, Universal Loving Presence, God.  Feel what you are being called to "name and claim" and bring it forward into being.
2. EMBRACE. EXPRESS. EMERGE.

Give yourself some quiet, still 
connection to embrace, express and allow the emergence of your personal power to give expression to your manifesting intentions by "Writing it Right" pen to paper. Antenna to the Source of Creation. Allow your own personal alignment and path to emerge with your miraculous nature that is designed to be supported. You are not alone, and you are not outside of your personal paradigm to receive your manifesting miracles that are yours to claim.
3. STRENGTH TO SHINE

. As you move into the fuller faith of your own soul-inspired desires and dreams, you naturally connect to your innate courage to shine with soul-inspired strength. You don't have to try so hard to be strong to get through whatever you are being asked to accept and activate around your new manifesting actions. You will find your expression to emerge more fully in the natural grace your soul-inspired dreams desire.
Use this weekend as your invitation to allow sacred moments of connection to the simple spiritual practice of the Manifesting New Moon Ritual that will enrich new beginnings for you.
Write it right. (Pen to paper - Antenna to God, Universe, Creation). 
Make space for the light of your dreams to shine. 
Let your manifesting intentions shine.
Powerful New Moon Enhancements
Subscribe on iTunes or your preferred podcast platform to get all the latest episodes.