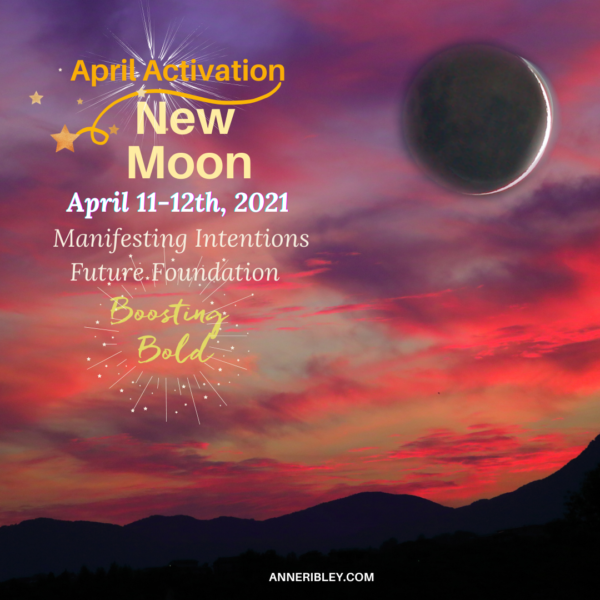 New Moon on Sunday-Monday. April is the month of Activation. What are you ready to boldly boost into reality? You can create a powerful practice/ritual with 7 easy steps Manifesting New Moon Ritual. 
For the past year, there have been tremendous energetic shifts occurring in sync every month with the moon cycle. We are a part of nature and now more than ever, it is vital to be in tune with the giving nature of life. Give yourself sacred time to connect and align.
Wherever energy has been compressed, lost, or missing the connection is coming together in a new way. You can stop old loops, timelines, and repeats.
April New Moon holds the power of alignment to your true inner intentions that were either not clear or known till now. Honor, nourish, and love alive the dream seeds and intentions life has for you. It's a time of support and re-connection to activate something new into creation.
3 Energy Focuses for New Moon:
1. April Activation.

Whatever gets put into worthy focus now will have a springboard of energy for a new timeline of creation. The seeds of your thoughts, feelings, intentions, heartfelt desires, and actions will activate momentum.
Are you ready for new creations to carry you forward into the future? Take the time to sit with the energy in a sacred moment for your spiritual practice to honor the new to activate. Nourish the activation connect and associate with the authentic arising in you.
2. Boldly Boosting.

April New Moon is super-charged with boldly boosting energy in the middle of the Super Full Moon sequence here till May. Energies are activating. Let this power time be filled with your true intentions with the momentum that determine your future timeline.
Have you been feeling the boosting energy? Tune in and trust boldly your truest self ready to show up in a new way, creating a new life.
3. Future Foundation.

Direction and decisions made now will shape the future foundation for what is being created and carried forward. Let the soil of your soul be nourished with the seeds of activation and action here to heal, feel and bring alive a new timeline in your life.
Show up to you and what's in your heart.
Shine On ~
Anne
NOW AVAILABLE on your preferred music platforms… iTunes, Spotify, Amazon Music, GooglePlay for the Empower Abundance Meditation for streaming, download or to purchase.
NOW AVAILABLE on your preferred music platforms… iTunes, Spotify, Amazon Music, GooglePlay for the Nourishing Worthiness for streaming, download or to purchase.