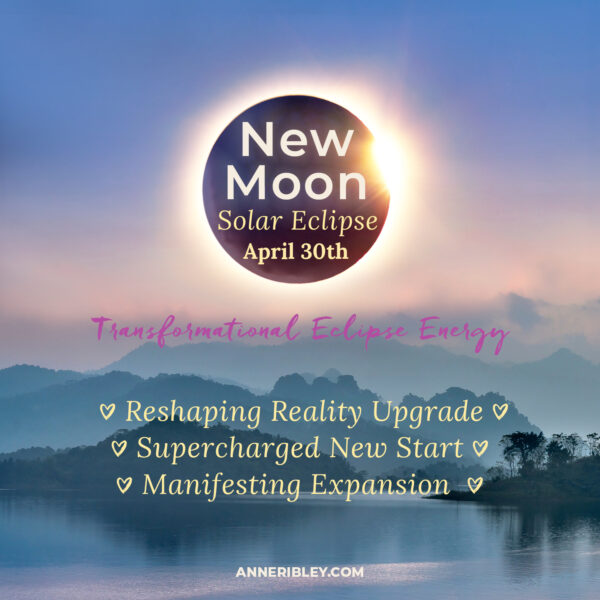 Solar Eclipse New Moon holds a massive shift for a whole new storyline. The core connection with self-worth, self-love, and self-expression are activating to support what is the new story and season to be manifested. The new paradigm we have been working hard for these past few years is now taking a rooted position to grow into a big successful upgrade.
This is the first eclipse of 2022 and is full of a power portal (doorway) for big success ahead in the material outer world.
3 Energy Focuses for April Solar Eclipse New Moon:
1. RESHAPING REALITY UPGRADE.

Done with the small. Ready to shift. Trust the transformation pulling you into a whole new way of being, doing, and living. A strong opening up to the light of your path filled with self-forgiveness and profound faith to move you forward.
2. SUPERCHARGED NEW START.

What do you really want? How do you want to feel? What is true to your heart? The movement for your new season to start is here to give you extra support. Pick the big and small visions, goals, and intentions.
3. MANIFESTING EXPANSION

. Once you are committed to your new start and season there is no going back the manifesting expansion that will lead you into a new future. Let your heart envision. Ignite your truest intentions. Plan your actions in alignment ti activate your intentions. Get the steps wanting your well-being of success to shine. Lifetime expansion can be set into motion right now.
This is a whole new season of becoming.
What are you willing to become?
Pen to Paper. Antenna to God/Source/Universal Loving Presence. Write it Right. Writing has power, it helps make it real and into reality.
Let the new manifesting energy move to reshape the new reality coming forward with an upgrade with abundance and prosperity.
Name it, allow the clarity to give you the certainty, and let the powerful forces and sources of life help carry you forward.
Your time is now to really get the manifesting moving.
Manifesting Money 21 Mantra Experience
Manifest money with the power of your word to move your money world forward.
Clear Sabotage & Abundance Blocks

Re-write Your Subconscious Programming

Super-charging Manifesting Money.

Upgrade Your Money Relationship

Let the Energy of Money Flood Your Frequency

Speak a New Upgrade of Money Into Reality
Let your next 21 days be filled with daily manifesting money mantras, immersive manifesting money meditation experiences, and specific journal entries for calling in the flow of manifesting money immediately into your life. 
Launches on May 10th on Mercury Retrograde and will run through May 31.
$37  $27 (Join Now and SAVE $10 with Early Bird Pricing)
PLUS Optional Support Circle Upgrade