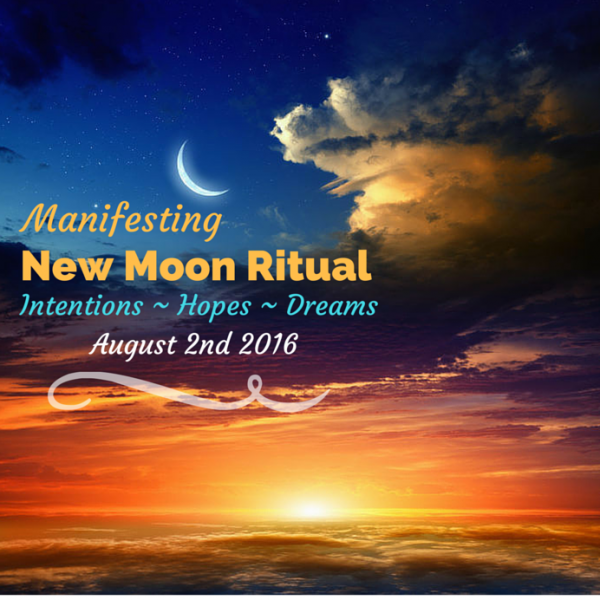 ~ August 2nd ~
Manifesting
New Moon
New month. New moon cycle. New beginnings. Let your heart lead. Let intentions breathe. Clarity and connect. Super-charge your manifesting intentions with a New Moon Ritual. 
You are being called to balance an area of your life through setting new intentions. What life area has been speaking to you and seeking you to create a new beginning? A re-birth? A new life calibration? A new calling of action?
Pain and suffering is what sits on the top surface of our life experiences. The surface holds the conflicts, hurts, and the stories being told. And it also holds what needs restoration. The problem areas of our lives: The ideas of what is lacking, missing or not happening. What is needed. What is scarce. What is right out of reach. What is being withheld.
If you have experienced any type of dark night of the soul recently, big or small, you are not alone. Your entire being is being called into a re-calibration with the energy you need to bring to the light. Activate the light from inside and shine out into your life for a clarity of change.
Embody your life fuller. Breathe in and out the light of your dreams. As we go deep to the truth of what is ready to be brought to the light, a profound Divine comfort will connect you to the deepest core of your own miraculous change. 
August can bring a relief and release with abundance (in the way you need), as you allow the needed balance your life seeks right now to bring the necessary restoration ready for you. 
AUGUST Manifesting New Moon Focus:
1. ACTIVATE YOUR AREA OF ABUNDANCE
What life area has been lacking and is calling you to bring in the balance of restoration? Love? Relationships? Body? Health? Mind? Behaviors? Opportunities? Financial? Value? Communication?
Activate the life area you need to activate. Call the strong, restorative power of abundance to the light of possibility and manifestation.
2. NAMING IT & CLAIMING IT.
There is extraordinary power in naming and claiming what seems missing or withheld. Connect yourself to the core center of creation that conspires to inspire and support your life's synchronistic nature.
3. WORTHY TO RECEIVE.
Become energy rich. You are worthy to receive the energy that supports your dreams, your life and your intentions. Recognize the energy as it comes toward you, and it will enrich the abundance that surrounds you. Receive it. Believe it. Integrate it. Be it.
The Manifesting New Moon Ritual gives you a way to connect actionable intention with prayer, allowing a natural alignment with your inner and outer worlds that connect with the light of your dreams. Most importantly, during a natural synchronizing time of new beginnings. New chapters.
Create your "write it right" list (antenna to God, Source, Universe). What's your energizing word that encompasses what you would like to bring the balancing light of abundance in your life?
The new moon is a natural receptive cycle. A receiving cycle. Do you have the clarity of what you are ready to receive? Be a good receiver.
Write empowering statements such as:
I am ready to receive ________.
I am open to receive ________.
I am worthy of ___________.
My energizing word to embody is _______.
Let it be!
Light your candle and declare fully "BeCome"!
May your heart open wider and your possibilities expand.
Let your light shine into the world!
Shine on ~
Namaste,
Anne

Super-Charge Your Manifestations!