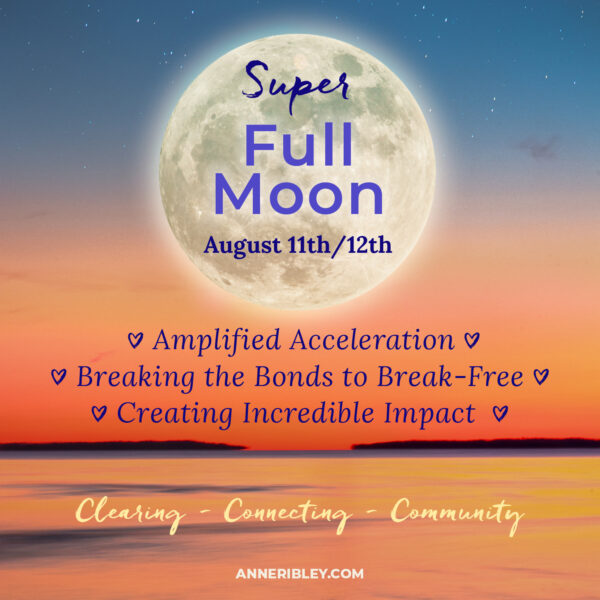 August 11/12th Super Full Moon brings a BIG lasting shift for the world personally and collectively. 5 easy steps to the Full Moon Ritual.
We are now at the third consecutive Super Full Moon of this catalyzing cycle to create impact that shifts reality. The moon is a natural magnifier, intensifying the current energies ready to be cleared and set free.
A profound re-calibration is happening. Let yourself "write it right" with pen to paper, antenna to God to release, liberate, and transform what is ready for a BIG shift.
SUPER MOON FULL MOON FOCUS:
1. AMPLIFIED ACCELERATION.
By clearing what has been collected, and heavy, you uplift yourself to be amplified for new movement in the area needing more acceleration. Money? Love? Career? Purpose? More Flow?
2. BREAKING THE BONDS TO BREAK-FREE.
Energy that has been trapped for long periods of time, or even through generations of time, that has been passed on or pressed upon us is breaking the old bonds for integrating new energy expansion. Clear the space to allow a new realm of uplifting expansion to take shape. In allowing the ease of release, we also "turn on" the shift of renewal that is ready.
3. CREATING INCREDIBLE IMPACT.
It's a time for impact. A shift. Readiness for a whole new renewal. Rebuilding a new reality. The old is collapsing and something new is creating impact known or unknown to you at this time. Let it go so the new can be.
Write it right. Pen to paper. (antenna to God/Source/Life). Create your ritual of release and let the fullness of your light shine the way.