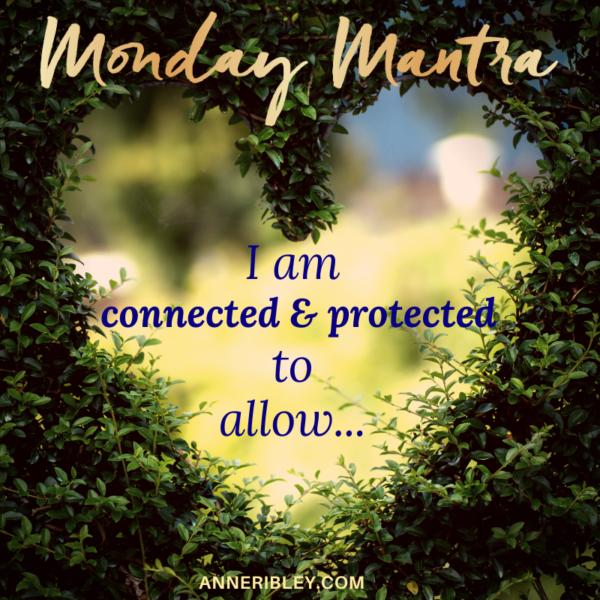 I am connected & protected to allow…
…my inspired intentions to realize and materialize.
…my good to come forth from wherever it is.
…my expression to be a powerful energy force of expansion.
…my restful restoration to rejuvenate my life.
…trust as my supportive guided source.
…the flow that is mine to step forth BOLDLY as my wave to be carried, and what is not mine to gracefully fade away.
I am connected & protected to allow…
Others to be, without needing to fix, defend against, teach, preach or shrink away from. I am solid in my soul posture as I know I am connected and protected to allow…
…the intelligent wisdom of the universe to guide my heart.
…the Original Knowing that is my Greater Being to allow my innocence (Inner Sense) to be wide open to my life because I am connected and protected in this truth.
…and my mantra message I carry forward… I am connected and protected to allow… reverberates throughout all my cells and into the energy field of life's loving radiance of natural action and attraction.
And so it is.
The Soul Stamina Plan course contains the simple methods for eliminating the 7 core "blocks" in your life that are keeping you from living the life of your heart inspired dreams…complete with blissful happiness and contentment. Ditch the old belief system that simply having the "right mindset and having the right will power" is all it takes to change your life. We will be focusing on one of the seven core areas over 2020. 
FIRST SESSION OF FOCUS: Worldly Worth
Soul Stamina Plan Begins March 19th at the Equinox Time/New Moon Beginnings
Matching Your Inner Desires To Your True Reality 
You'll also discover the powerful healing process of self-forgiveness as well as…
- CONNECTING to financial sovereignty with the proper support systems.
- ELIMINATING personal "constrictions" and removing the "lack" of personal choices.
- RESOLVING your own financial issues and creating a barrier of safety.
- SHIFTING from the "not enough" stance to the "more than enough" life posture.
- BRINGING your purpose, job and entire career into FULL alignment with your desires!
- CREATING one unified "balance" within your own life for true happiness.