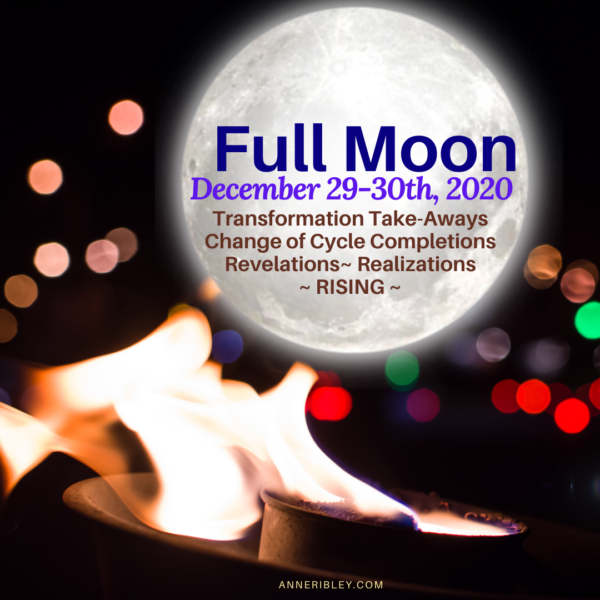 Last Full Moon of 2020 is here. December 29-30th. Give closure to 2020 with a Miraculous Healing & Transformation of the Full Moon Ritual. Use this time to use the power of the ritual of release to give closure to 2020.
It's a transient time for all of us as we emerge into a new era. We are closing down a year of immense growth for the new emergent era ahead.
As we wind down 2020 and end with the 13th full moon of 2020, what has the season of 2020 brought into the light for you?
Use the power of a release ritual during the full moon between now and the end of the year to put pen to paper, use the transformation of fire to let it go, and transform the energy into what is next.
What has this season of 2020 been for you?
Bring it into the light and let it go the naming of the past season to give completion.
A season of finding the meaning?
A season of holding space to something long held ready to be settled?
A season of new deep insights?
A season to stretch into the uncomfortable?
A season to stop running?
A season to get up and start?
Lots of forgiveness. Insight. Newfound frontier expansion. More open-hearted healing on every level is being asked of all of us.
Write a letter to 2020. Welcome the space for a season show up in 2021.
Yes, the energy of transcendence will birth a brighter light living inside you with new chapters ahead to be written.
Focus for the Last Full Moon of 2020:
1. Transformation Take-Aways.

~ Give yourself the ceremony to let the 2020 season cycle close. Let yourself name, claim, and release the take-aways in transformation for 2020. By allowing the honoring of this ritual you help carry all of yourself through changes of intensity that could get lost or stuck as you move from one chapter to the next. This connection to honoring the completion will carry clarity and the Godspeed to manifest new dreams in 2021.
2. Change of Cycle Completions.

~ Honoring the line of change happening for you. Let yourself be safely carried with clarity to feeling complete in the wholeness of your being and life for all that has shaped the 2020 year.
3. Rising with Revelations & Realizations.

Moving forward you will feel the power of relegations of all that has gone before bring you the clear-sighted realizations you need in every move going forward to RISE! We are inside the RISING time of the new energy emerging. Your spirit shining and becoming fuller and brighter is part of the radiance rising on every level in the new dawn of tomorrow holding dreams to happen in 2021.
Rites of passage help carry us. all of life works a beautiful rhythm of cycles/seasons. Your heart is the keep of the natural movement of rhythm and the circulation to nourish life.
Let's claim your new season by letting the 2020 season close neatly in your being.
May the Miraculous Full of Your Light Shine!
Prosperity Mantra Challenge Experience is fantastic way for 2021.  In this 21-day Prosperity Mantra Challenge Experience, you will not only rediscover the blessings in your life, you access the energy fuel to super-charge your prosperity path.
Let your  1-1-21 begin with daily prosperity mantras, immersive wealth deepening meditation experiences, and specific journal entries for shaping prosperity immediately into your life. 
Join us in re-shaping, re-shifting, rewriting the PROSPERITY PATHWAY over 21 days. Get your prosperity momentum going as we enter 2021. Activate new shaped stamina in the prosperity path for you. 
Daily Mantras

Weekly Deep Immersion Meditational Subconscious Programming

Mini Meditations

Daily Prosperity Intentional Journal Prompts

21 Days of Prosperity Power-Ups, including optional SMS mantra texts to keep you on track.
Multiply the prosperity. Get a friend to join along with you.
Buy one & Gift one to someone you know would love to join along.
PRO-THE-SPIRIT of you. Prosperity.
Pick the price that works for you. (3 options)