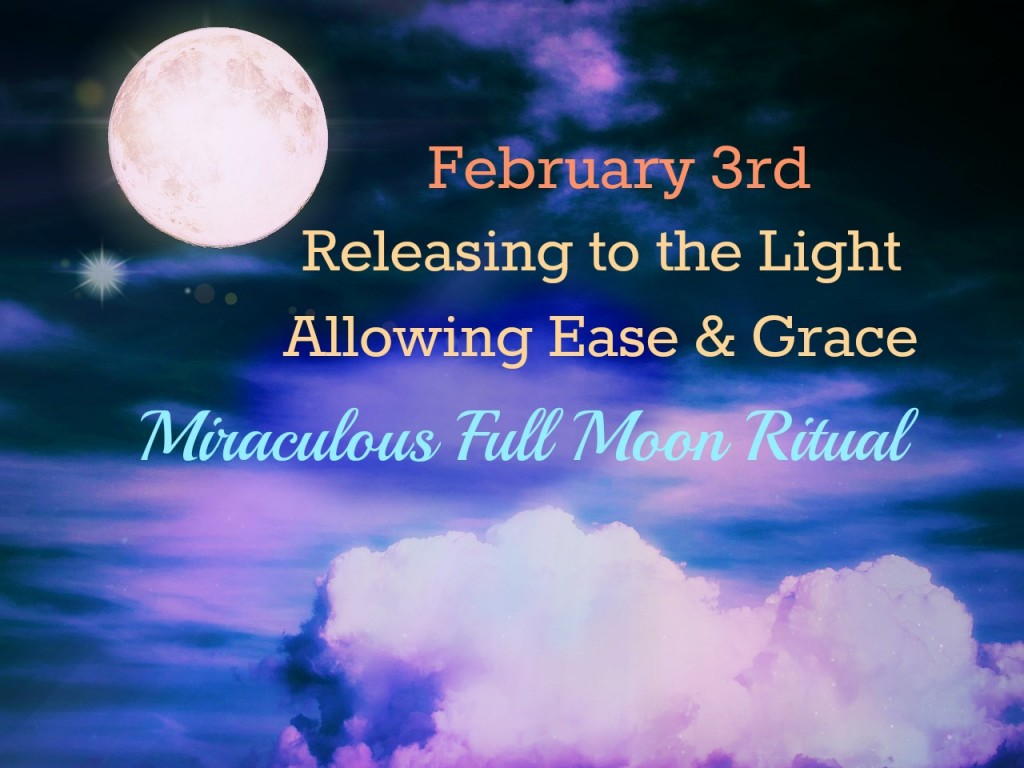 ~ Miraculous Full Moon ~
Tuesday, February 3rd 
A healing time for releasing to the light and transforming of deeply held energy patterns that have reached their season of surrender. Time to make room for the new.
The February full moon energetic focus is all about the releasing of energetic clutter, confusion and chaos to the light and allowing a clearing of consciousness. Facilitate the connection for the head and heart to be in union with your life's path and the onward direction. Use this time to reflect with meditation and prayer what needs to be released. Create congruence with your inner and outer worlds.
You can "write it right" with pen to paper, antenna to God. Release and surrender with the Miraculous Full Moon Ritual. We are in a magnificent time to powerfully connect with ease and grace toward our manifesting dreams if we take the time to nurture the soil of our soul.
Doing a simple spiritual practice of a ritual or ceremony during the full moon easily allows a release of what needs to be surrendered so we can discover more deeply the dreams that are ready to emerge.
"I saw the angel in the marble and carved until I set him free."
~ Michelangelo
The movement of the moon always leads to the rise of a new dawn. During the moon's fullness, the symbol of light in the night is a reminder of the beautiful possibilities that wait on the horizon to meet and greet us.
There will be two more SUPER NEW MOONS (February + March) following this full moon. Clearing the way for internal order is important to activating clear intentions right now. We are in a time for planting the seeds of dreams. Let the soil of your soul be rich with readiness to receive your dreams.
Release to the light for what is ready to shine bright in you and around your path!
Namaste,
Anne
The 5 Simple Steps of the Full Moon
It's Simple, Yet Magically Transformative:
"Write it right" on a piece of paper all you would to relinquish.
IMPORTANT QUESTIONS FOR FEBRUARY:
What is the energetic season that has reached its time to surrender?
What is the energetic season for you that is now time to emerge?
Plus, let go all the darker energies, problems and difficult situations that have reached their expiration date.
What are the areas that you head and heart need more union and core congruence? Relationships? Money? Purpose? Dreams? Family Matters? Health Issues? Forms of Connection?  
Now is the time for the surrendering their release and allow your next emerging state of being to step forward with ease and grace.
Set in the fireplace and let the paper burn.

Announce the words out loud with full intention, I Relinquish! BeGone! I Surrender!!!

Stay open to the miraculous and watch your prayers begin to manifest.