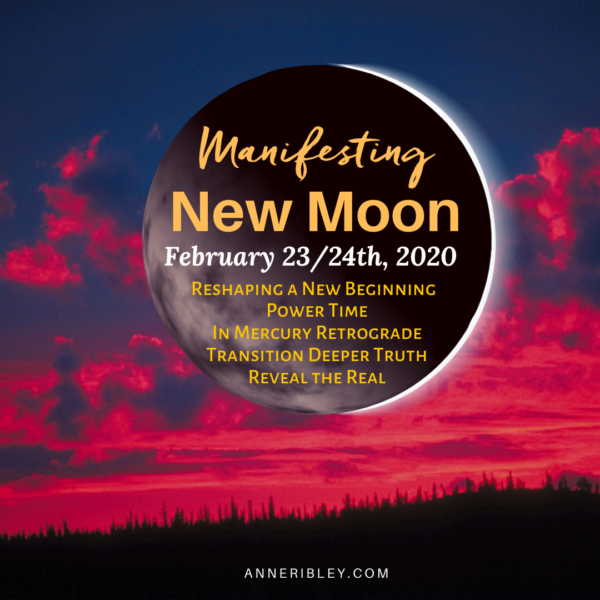 Inspire Your Manifesting Intentions & Dreams Into Life. 7 Easy Steps to > New Moon Ritual.
February New Moon is cycling with Mercury Retrograde. The energy carries a slowing down for clearing the channels of communications while giving a clarity catalyst to what wants to be created in a whole new way.
What has been in the dark for a long time will now see the light. Whatever has been a long-standing struggle or source of suppression is being redefined into a whole reality.
✨

February's New Moon Cycle Brings

✨
1. RESHAPING A NEW BEGINNING. The long term cycle of clearing old patterns, sabotage, stubborn past distress is finding completion for the new to be born. Your new beginnings are here. Define those dreams that have been in the dark. Whatever has been shackled for you is shaking loose. Claim your intentions.
2. TRANSITION DEEPER INTO TRUTH. If your time of transition has felt slow with stagnation, just know you have been going deeper into your truth. Your truthful knowing. Your inner guiding resonance for a new reality. You have been progressing to this passage point to cross your new threshold. Now is your time.
3. REVEAL THE REAL. Your inner guidance is bursting you forward. There is a strong line and boundary being drawn for the new beginnings to be rooted in the seeds of dreams that are speaking. Loud and clear. Ready to be lived. Have the real heartfelt moment to honor the new reality ready for you.
Take this sacred time and use this powerful magical opportunity to plant with intention the seeds of dreams now ready.
Pen to paper, antenna to God/Life/Universe.
Bring to the light. ✍️🗒
Shine on,
~ Anne
Special New Moon Support Enhancements
Inside the Remarkable Souls membership you get LIVE Monthly Connected Support with other simple practices, teachings and trainings, courses and workshops to uplift your life stamina, nourish worthiness, sharpen clarity, shift from sacrifice, survival, suffering, promote prosperity and feel inside your life's remarkable life print here to thrive.
Inspiring Dreams Alive