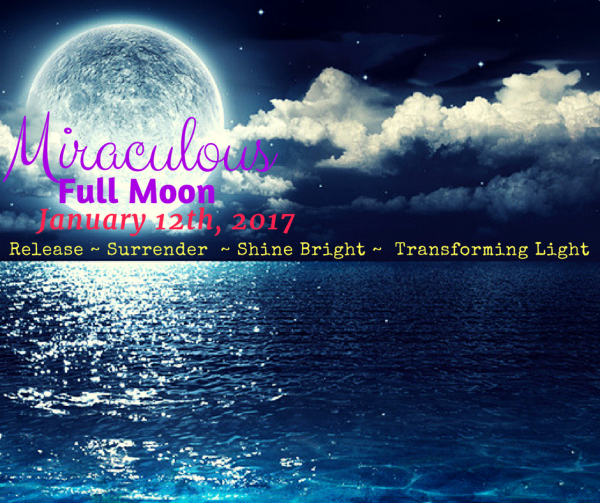 January 12th ~ First Full Moon of 2017 ~
Set the tone for the new year, fresh and clean. Surrender the story that has held you back. Surrender the story that has hurt you. Surrender the story that has haunted you. Surrender and release. With a clean slate, start 2017 transforming with the Full Moon Ritual. 
Mercury Retrograde is now over. Manifesting will gain the momentum to help you move 2017 into the deeply desired expansion of your dreams.
Lately, you may have been rigorously looking at the weight of stories holding you back. Now is the time to free yourself of their bondage.
Surrender the stories that don't serve you. Transform healing miracles into your life.
January 2017 Full Moon Focus:
1. Surrender Your Story! You have heard them repeating…. the stories… narratives… the constructs of what has happened that has placed you right here. Now, you can bless them for their gifts and surrender them to the light, so you may be free to be.
2. Shine Bright! You are being called to turn up your brightness. You can feel the shifting inside. The shedding of what has dulled your spirit has never been so clear. It's now your time to shine. Step into the light that is ready to transform your life. Turn on the light.
3. Transform Your Light!  Whatever particular form of suffering has stifled you, stretched you, silenced you, shackled you, you are now ready to surrender. You can feel your spirit being called to transform into lightness of being, the lightness of body, mind and spirit in the brightest sense of your aliveness. Take a bold switch to the light.
Open the new chapters of 2017 by letting go of the oldest and most tormenting stories that have hurt you, held you back and blocked you from being true to you.
This is your year to shine. You are ready to shine with health, love, prosperity, dignity, self-love and renewed purpose. It begins now with letting go of an old story and embracing a BOLD new way.
Create your Miraculous Full Moon Ritual & Welcome Your 2017 Dreams.
You can use these monthly rituals to bring forth blessings, healings, transformations, and powerful manifestations throughout the whole year of 2017. It works for any age and any culture, so gift this practice to yourself!
Synchronize with the movement of your dreams for 2017! Miracles are waiting to help carry you this year.
Let the fullness of your dreams shine on!
Namaste,
Anne

Super-Charge Your Manifestations!