Another wonderful stop along the way to following my dreams…. love movies, stories that inspire and couldn't think of a better way to fill up with inspiration than from honorable people doing it at the
Santa Barbara International Film Festival 2011.
Attended the Modern Master Awards Event with Jack Voorheis in honor of Director Christopher Nolan.
Before the Modern Master Awards Event, we went to the Opal Restaurant next to Arlington Theater to enjoy an exquiste dinner with special menu items for Santa Barbara Film Festival attendees. What a perfect dinner ending with a great cup of coffee and mixed berry creme brulee . Could life get any better….Jack Voorheis, Chris Nolan and Leonardo Dicaprio with chocolate ENJOY all within a couple of hours in the great city of  Santa Barbara?
Writer's Panel was awesome and inspiring, went with Rhonda Kiblinger.
We had a fabulous lunch at Pascucci Restaurant afterwards while waiting for the Women's Panel.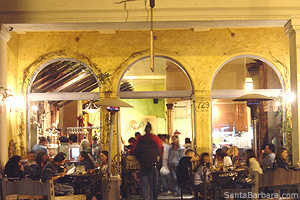 PASCUCCI RESTAURANT State Street
Santa Barbara
SANTA BARBARA, CA - JANUARY 29:
Back Row L-R Writer of the Kings Speech David Seidler, Writer of The Fighter Scott Silver, Writer of Toy Story 3 Michael Arndt Front Row L-R Writer of The Kids are All Right Lisa Cholodenko, Writer of The Social Network Aaron Sorkin and Writer of Get Low Charlie Mitchell backstage at the "It Starts With The Script" Panel held at the Lobero  Theater on January 29, 2011 in Santa Barbara, California.  (Photo by Ray Mickshaw/WireImage)
Respected Women in Hollywood Making Inspiring Creativity Happen…Love It!!
SANTA BARBARA, CA - JANUARY 29:  Producer of Waiting for Superman Lesley Chilcott, Producer of Winters Bone Alix Madigan, Executive Visual Effects Producer for Digital Domain Gloria Borders, Producer of Toy Story 3 Darla K. Anderson and Costume Designer of Alice in Wonderland Colleen Atwood  backstage at the Creative Forces: Women In The Biz Panel held at the Lobero Theater on January 29, 2011 in Santa Barbara, California.  (Photo by Rebecca Sapp/WireImage)