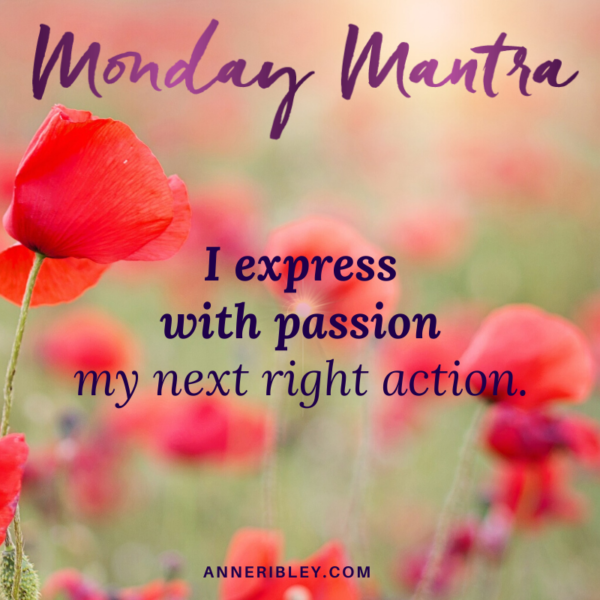 I express with passion my next right action.
We are in a time of uncapping the suppression, the silence, the turning away or down the volume of our very own personal expression of spirit. You might be feeling the rising of your soul power to speak, reach, and reconcile what can no longer hide from the light of your own radiance ready to shine. Your divine right to be more of you and express it into life fully is now. You are a soul here to express. Now is your time unleash your passion to express your next right action.
What is ready for you? Start with one step of right action in your expression. Come alive with your passion.
We need your light.
Shine.
Express with passion.
Take that next right action as it arises for you.
"The best time to plant a tree was 20 years ago. The second best time is now."Plant A Tree Today." ~ Chinese Proverb
Maybe your best time to express with right action was yesterday, last month, 20 years ago.
Your NEXT best time is now.
Let this mantra help carry you with momentum to EXPRESS your next right action.
Namaste,
Anne 
The Soul Stamina Plan course contains the simple methods for eliminating the 7 core "blocks" in your life that are keeping you from living the life of your heart inspired dreams…complete with blissful happiness and contentment. Ditch the old belief system that simply having the "right mindset and having the right will power" is all it takes to change your life. We will be focusing on one of the seven core areas over 2020. 
FIRST SESSION OF FOCUS: Worldly Worth
Soul Stamina Plan Begins March 19th at the Equinox Time/New Moon Beginnings
Matching Your Inner Desires To Your True Reality 
You'll also discover the powerful healing process of self-forgiveness as well as…
- CONNECTING to financial sovereignty with the proper support systems.
- ELIMINATING personal "constrictions" and removing the "lack" of personal choices.
- RESOLVING your own financial issues and creating a barrier of safety.
- SHIFTING from the "not enough" stance to the "more than enough" life posture.
- BRINGING your purpose, job and entire career into FULL alignment with your desires!
- CREATING one unified "balance" within your own life for true happiness.