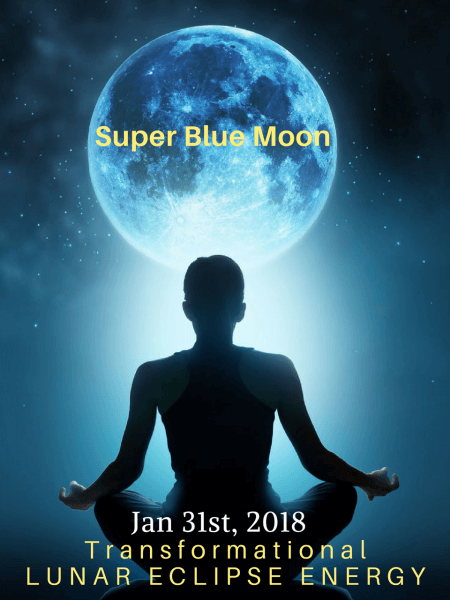 There are several power phenomenons wrapped into this Blue Super Full Moon with Total Lunar Eclipse.
Create your Miraculous Full Moon Ritual. 
It's been a power-house month, beginning and closing the month of January with the amplifying energy of a full moon. Let the shining the light of transformation create the profound shifting of what is ready to be surrendered, transformed and healed for you.
How has the month of January felt? Intense. Intense. Intense. Where have you been feeling the intensity? In your immediate physical world? With time? In your relationships? Around money? In your career? With your job? Home-life?
In whatever way the intensity of the energy you have felt this month, you can be assured a healing transformative power is at work for you. Whenever there is a full moon eclipse the natural energy you are being invited into is designed to create a profound shift. A shift you want, don't resist it. Align yourself with the shift. A full moon is a natural synchronistic aligning time rich with magnified opportunity to eclipse the hidden parts ready for release. Those life areas have been playing out in patterns that no longer serve your new direction.
Energy Focus for January Super Full Blue Moon:
1. A time of profound insights around your intentions. All the intensity that has been circulating is here to your expansion with insights. Surrender and release the hidden shadows that suppressed you in any way.
2. Surrender any fears or insecurities promoting scarcity in your life. Not enough. Anxiousness. Separation. Disconnection. Let it all go. Surrender to a source and power greater than the current conditions and allow yourself to feel the release in returning to your own connection of source and well-being.
3. Processing your past that needs to be relinquished for the new to step forward. Overwhelm comes from unprocessed life energy. When there is overwhelm resistance will follow along. Use this power-time to relinquish the past so your new future desires and dreams can be processed into reality.
Use this power-time with a Full Moon Ritual to give closure to the month of January and open yourself to powering the transformational gifts that are ready to settle into your path for you to rise.
Claim your change.
Write it Right. (Antenna to God, Source, Creation)
Do a ritual of release.
Shine On ~
Namaste,
Anne
TELESEMINAR & WEBINAR REPLAY
MIRACULOUS POWER OF FULL MOON

RITU

AL
PLAYBACKS - AUDIO ONLY & VIDEO
WATCH/LISTEN to 50 minutes - Webinar
REMEMBER 5 EASY STEPS
It's Simple, Yet Magically Transformative:
1. Create a sacred space with meditational music. (FREE Streaming below)

2. "Write it Right "on a piece of paper all you would to relinquish. This is all the darker aspects of your life. The more specific the better. The areas where you need Divine help to heal whether it be something on the inside of you or a life situation.

3. Set in the fireplace and let the paper burn. (You can use parchment paper, if you need easy, clean burn with no ashes.)

4. Announce the words out loud with full intention… I Relinquish! Be Gone!

5. Stay open to the miraculous and watch your prayers begin to manifest.
POWERFUL ENHANCEMENTS: