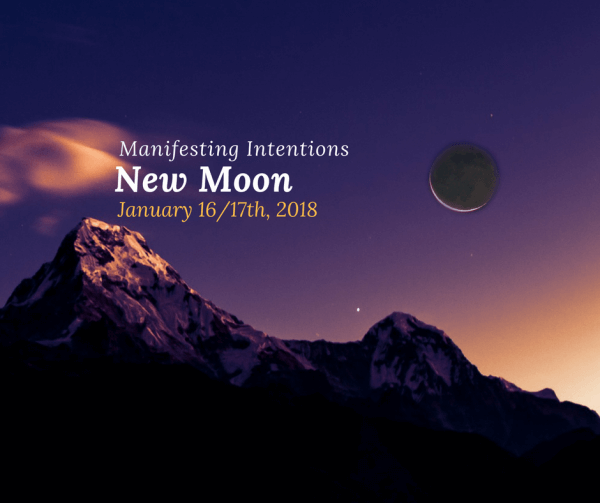 January Manifesting New Moon 2018
Start the new year out with the manifesting momentum for the changes you wish to embrace. Embrace the energy with a New Moon Ritual. This energy cycle is about manifesting with truthful order.
Change. Change. Change. Turning cycles of change. No one is exempt. What are you going to create right now with the changes calling forth for you?
I highly encourage everyone to pick their manifesting energy word/theme for this new moon cycle that connects truthful order for you for 2018. Make your "write it right" list and find the energy word that encompasses it. Allow your manifesting word to become the flag you set on your sacred ground.
AIM (Awareness - Intention - Momentum) is the Energy Focus for January Manifesting New Moon:
1. Awareness around the truthful order calling forth the change you are being asked to get into connectional alignment with. You are ready to shed the disconnection and be in strength and connection of your next new chapters ready to come through for you for 2018.
2. Intentional creation. What do you want to create? These are important check-ins at this time of the year for your creations on the smaller and bigger levels in your life to have the clarity as you lay out the foundation for what will come next. Use those intentions to be in connection with your core creation is speaking to you right now. Write it right, now for 2018.
3. Meaningful momentum. You have the power to create the momentum that moves your manifestations, transformations and creations by starting today to set into motion your truthful order with awareness the intentional actions that match the meaningful momentum you are now ready to make happen. All the support of the Universe will get behind your meaningful momentum as you align to your truthful order of creation.
Write some empowering statements on your "write it right" list:
My word of manifesting desire is____.
I am resonating in the power of_____.
I am in full reciprocating energy of ____.
I am in rapport with ___.
Resonate with your dreams.
Be at home with your heart's dreams. Bring those dreams to light. Join the global movement of collective consciousness for participating in the Manifesting New Moon Ritual bringing light to your hopes and dreams. Use this powerful time to align to the best LIFE wants to manifest forth for you this new year!
Namaste…
Shine on ~
Anne