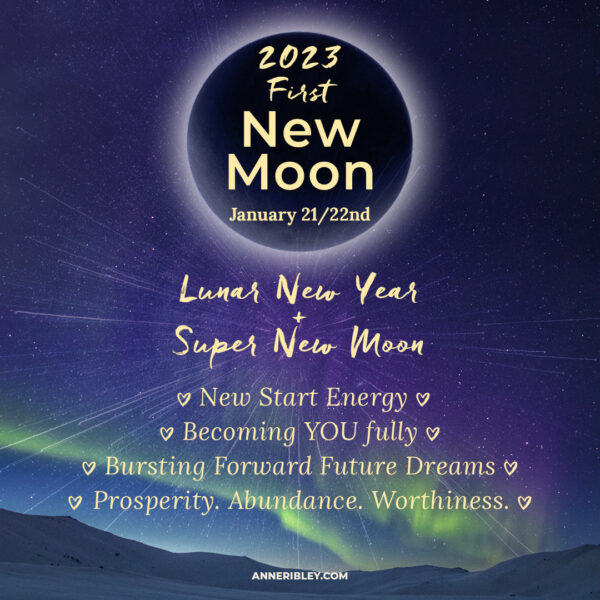 First New Moon of the year offers the strongest SUPER NEW MOON of 2023 + Start of Lunar New Moon. BOLD. BIG. Bursting momentum forward. New Moon Ritual >>> 7 simple steps New Moon Ritual.
If haven't been feeling the full new fresh start in the movement for the new year. There are multiple reasons behind the energy slow-down. Mercury Retrograde causing us to slow down and review deeply what we want and how we really want to be in 2023.
Energy-wise, nature-wise, astro-wise, and according to many ancient wisdoms, we are at the Lunar New Year coming up on the SUPER New Moon (the strongest and closest new moon of all of 2023).
Super New Moon Energy Focus:
What will be your new story for 2023? Something deep is stirring for you to have a whole start and story to speak up and show up for you. Tune into your worthy heart ready to speak.
The more true you is ready to be free. The full worthy YOU is needed to truly live the intentions and dreams. Feel the real you fully, deeply and powerfully. 
3. PROSPERITY. ABUNDANCE. WORTHINESS.
As we begin the Lunar New Year for 2023 — the year of the 7 - a transformational time for upleveling all your worthiness to be in prosperity. Prosperity means (PRO-THE-SPRIT-of-YOU). Abundance will match you.
Super New Mon is a way to say… this is important to me and let your prayers, intentions, hopes, dreams and new story of what is ahead be heard, held, and most importantly brought ALIVE.
Create your "write it right" list (antenna to God, Source, Universe). Let your intentions seed the dreams to activate the new story being formed into reality.
Name what is the new story for you ahead?
What's your proclaiming energy word for 2023?
Light your candle and declare fully "BeCome"!
There is just too much to say for this POWER time because the energy is too important to skip thru quickly.
I am devoting a full power hour to a FREE Worthy YOU 2023 - Prosperity Event to give you the best I have to share for you to make 7 POWER Shifts at this incredible time for your highest and best transformation in 2023.
Time to shine the light of YOU!