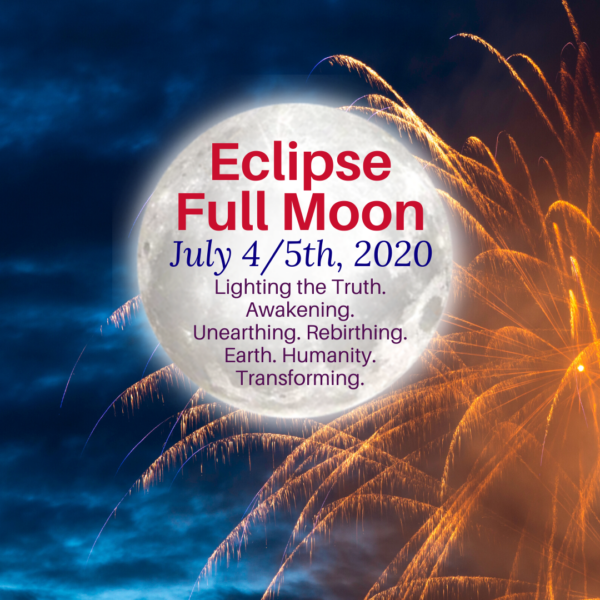 Full Moon + Lunar Eclipse Transformational Energy ~ July 4/5th 2020 ~ Use the weekend to create your transforming freedom ritual. Step out of social media / worldly commotion and come into contact with your own deep truth for transforming change. 5 Simple Steps to the Full Moon Ritual.
The longer than usual eclipse season with Mercury Retrograde closes a cycle change. Clearing, revealing, and rewriting us through a deeper transformation of truth and alignment into a new paradigm.
Looking deeper into the hidden and what does it mean for each of us. What didn't we see?
What needs to be seen?
What energy system needs to be eclipsed?
What personal energy system have we eclipsed?
Time is now to shift how we are showing up in a completely new way.
JULY FULL MOON FOCUS
+ TRANSFORMATIONAL ECLIPSE ENERGY
1. Shifting Extremes. We have all been riding the shifting extremes of energy. Internally. Externally. Inner worlds. Outer worlds. How do we attune what is true for ourselves within our own power place? Shed the blocks and stops of the eclipsed and covered energy centers within and out in the world. This is the shadow dance of reconciliation we are all in.
2. Re-Arranging. Re-Aligning. Re-Writing. It's all happening around us. Use the peaking power time to know what this means for you in your own cycle of change. Get to the heart of what matters within you. Name. Tame. Claim. Release.
3. Turning of Trauma Triggers. We have been thrust into a deep cleansing. Truth revealing. Craving a new path. Hidden toxicity becoming known for renewal in a completely new way. We are all contributors. Creating the new story being written.
Sacred time on this powerful weekend will give the miraculous impact needed for healing and transformation. We are an intrinsic part of the change we seek to create.
Write it right.
Pen to paper (Antenna to God, Source, Universe)
Let what has been eclipsed shine through.
Illuminate what is true.
Special Moon Support Meditation