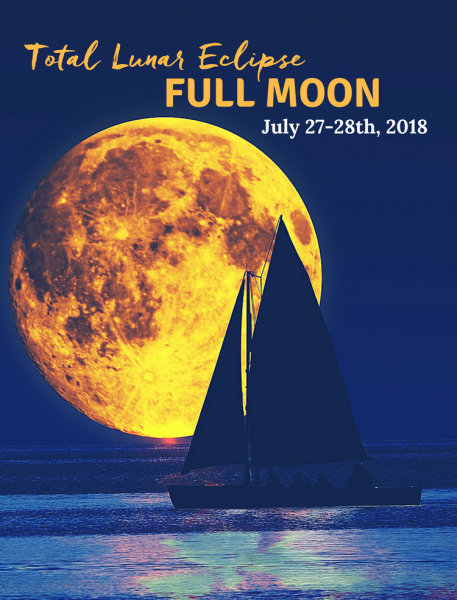 Full Moon + Total Lunar Eclipse
July 27th
Create your Miraculous Full Moon Ritual and connect to the powerful transformational eclipse energy offering you the opening to significant life visioning and re-shaping.
The lunar eclipse full moon occurs when the sun, moon, and earth pass through a precise alignment of simultaneous sunrises/sunsets casting orangish/red tones on the moon which is referred to as a "Blood Full Moon". This configuration energizes your connection to relationships and big life visions and goals.  This will be the longest total lunar eclipse we have had yet in the 21st century, lasting 103 minutes.
Energy systems are bringing us into alignment. The alignment of planets in retrograde, in addition to Mercury retrograde, begins on the Full Moon, July 26th, and will last until August 18th.
What is the longest standing, stubborn, or lived out energy pattern or paradigm that is shifting for you right now? That is what wants to be eclipsed with transformational energy stirring and moving. You are in the process of re-shaping a new reality for yourself and contributing to a new collective consciousness. You are ready now more than ever. All the inner work you have been doing because of external turbulent conditions have been designing a new way for reality to shape you. You are feeling a new expression of your energy emerging more strongly now than ever.
Look to your life, and you will see the strongest karmic lessons you have been wrestling within the past couple of years. You will know which of your "old" paradigm thinking, living, or life patterns are now ending and ready for the fresh new you.
July Full Moon + Total Lunar Eclipse Focus:
NEW CALIBRATIONS OF CONSCIOUSNESS
1. During this transformational eclipse full moon, you don't have to focus on what needs to be released because that is very clear to you. Peeling away those particular patterns, buried deep within, that need to be eclipsed will be best served by embracing and allowing the new ways to be discovered.
CLARITY CONNECTION
 2. Shifting from the areas that have been cut off or disconnected from your truest soul expression is the transformation being called to you right now. It is your clarity connection to the source of you. You can use this natural opening of energy to peel back and totally eclipse a particular pattern(s) holding your fullest self back. You are not your body, your mind, your relationships, your work, your job/profession, your roles, or your money. You are the light of your soul living through your human experience. Hold sacred the place where you nurture the seeds speaking within your soul to live in a whole new way. Be true. Shine the light to find your soul-inspired path ahead.
REMEMBERING. RELEASING. REFRESHING.
3. Drop down to the truth that is right there waiting for you to remember. Be still. Release the resistance. Refresh the light of the truth of you that is ready to show up in a whole new way.
Let Go.
Liberate.
Transform.
Shine on ~
Namaste,
Anne