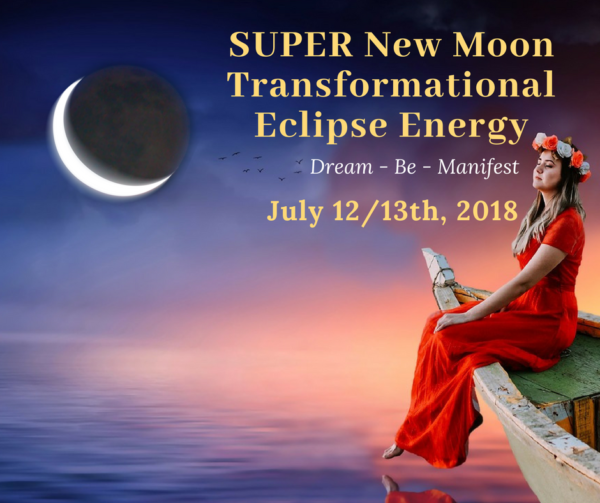 Feeling restless? You can claim your calm and clarity now. (Find nurturing comfort with the (Manifesting New Moon Ritual)
We are at a significant time of new beginnings, and this powerful Super New Moon is the strongest of the 3 (June, July, and August). The moon will be the closest to earth in July, and it will have transformational partial eclipse energy. You can use this naturally powerful time to create rules of intentions for you and the way you engage with your life.
The new rules of intentions that are bubbling up for balance will ask you to give a whole new orientation to how you show up and interact in certain life areas that need new perimeters.
It will no longer be business as usual on so many levels. Let the old karmic debts of what "has been done" or "has been" dissolve. Give your attention to your intentions that can reshape the perimeter of your personal dominion. Your soul-inspired life wants to be arranged in a new way.
July Super New Moon Transformational Eclipse Energy Focus:
1. Clearing out. Cleaning Up. Creating New. Claiming it. All the old ways are weeding themselves out. You feel resolved to no longer interact or engage with ways that have become outdated or no longer serve you. You are claiming the power to create what is true for you, authentically, in your real way that matches the reality that you want to live. You are creating a new cycle for yourself. Be unapologetic in claiming it.
2. Bringing Inspired Dreams To Life. Open wider to your worthy self that is ready to claim and bring your inspired dreams to life. You are in a new time of honoring true self-love. Let the new beginnings reflect your new sense of direction. Your true heart-felt dreams of intention manifest during this new moon.
3. Let Your Freedom Be Defined. Rather than feeling as if you have been denied some important area of your life, you are now ready to claim new freedoms defined for yourself. Some area(s) that have been bothersome for some time are fading away as you are moving into a new refined sense of freedom. A whole new phase of your life is opening up. A whole new approach and way in which you express your life blossoms with forward meaningful momentum. Let this freedom flow from the foundation of your soul-inspired intentions. You will be supported and protected with aligning powers of what is true for you.
Release old ways of doing things.
Be ready to receive a whole new cycle of new beginnings and gifts.
Super-charge your manifesting intentions.
Write it right. (Pen to paper - Antenna to God, Universe, Creation).
Pay attention to your manifesting intentions.
Activate your dreams.
Light your candle.
Let your manifesting intentions shine.
Shine on ~
Namaste,
Anne
Special Super New Moon Support Meditation