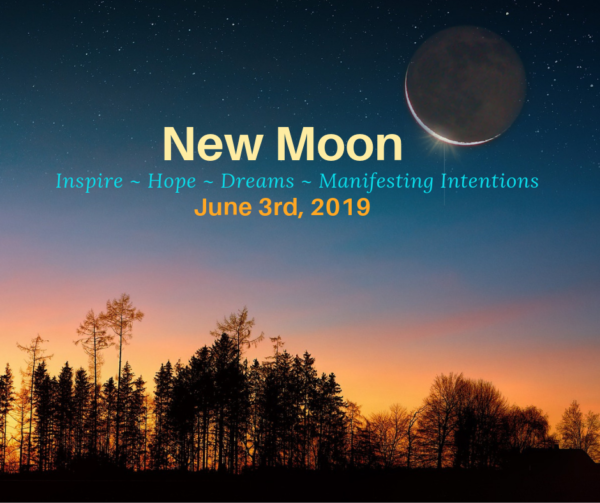 New Moon. New Month. New Beginnings on Monday, June 3rd, 2019 ~ Begin June with the spiritual practice of the Manifesting New Moon Ritual (7 Easy Steps), and uplift your intentions to come alive and thrive.
The energy intensity is calling forth whole new systems. These are systems of how we care for each other on every level. What is that new system you are listening to about how you care for yourself? What is the whispering weight of what is next?
The new moon is about taking the light that is shining in you right now, filled with seeds of dreams and something significant that has been whispering over and over again. The whisper has weight because you have been carrying it inside. It can become a heavy burden if it is never given the chance to come to life, the chance to be seen and heard, the chance to shine as something in the world, the chance to become something, and the chance to become known.
June New Moon Focus:
1. The Forgotten is Being Found. What has been long forgotten, lost, frozen, hidden inside you is coming to life. Trust the unthawing taking place. All these new sensations around your well-being are guiding you to come more alive and thrive. Shine the light inside and see what is ready to become next.
2. Turning to Truth with Trust. This is a time of big change because we are being called to put our trust in our own capacities to show up. What is the truth being revealed that is causing the toxic take-down? The damage and cost of toxicity is becoming more clear. We are taking it down personally and collectively through every step we take toward truth and trust by showing up to ourselves and each other.
3. Future Visioning Forward. Begin the month by checking in with the future that is calling you forward. Listen to the whisper. Right it Write. Pen to Paper. Antenna to God/Universal Loving Presence/Source let it forth. The whispers of intentions will transform the heaviness of weight into wings of flight and light!
Create your energizing power word for this month that begins with a new moon and new beginnings. What's your energizing word that solidifies and amplifies your manifesting inspired intentions?
Light your candle and declare fully "BeCome"!
Shine on ~
Anne