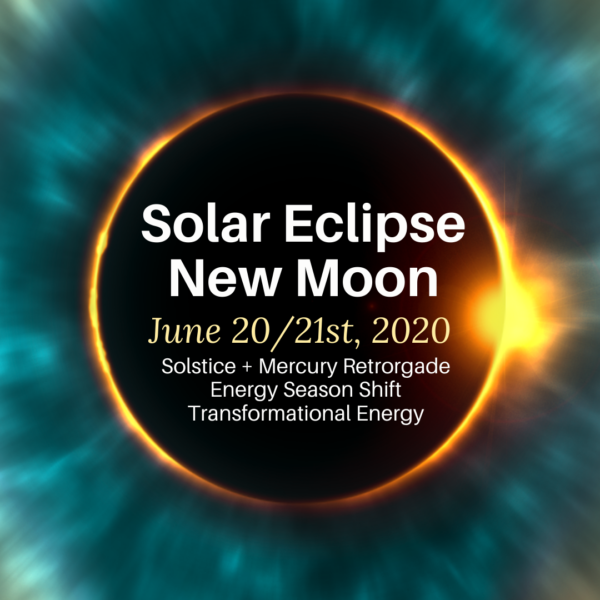 Solar Eclipse Transformational Energy + New Moon + Solstice in Mercury Retrograde ~ Saturday, June 20-21, 2020 ~  You can use this deeply transformational time to invoke integration into the new creation happening. You have all weekend to activate and align.  7 easy steps New Moon Ritual.
The Solar Eclipse is the "Ring of Fire" taking us through the shadows into the light on all levels.
We can use our intentions with initiating the needed integration we are all being called to live individually and collectively.
Focus for the Solar Eclipse New Moon + Solstice + Mercury Retrograde :
1. TURNING POINTS TO A NEW PARADIGM. We are in the "Ring of Fire" unearthing and re-birthing a historical season shift in the well of our being-ness. Tame. Name. Claim.
2. RESET. The retrograde mixed with all the other energy elements calls for the reset, rewind and rewrite. A whole new way. Restorative resolutions. Tame. Name. Claim. You are calling forward your contribution for you and the collective.
3. BIRTHING A NEW REALITY PARADIGM. The labor pains of what we are birthing forward can feel very unsettling. Especially as the Solstice energy shows the extreme opposites with the longest day and shortest night. Or the shortest day or longest night. Depending your orientation in your own hemisphere which amplifies the outward expressions. Go inward and know your new reality that is ready for your contribution as we co-create a new paradigm.
Pen to Paper.
Write it right (Antenna to God/Universe/Source).
Light your candle.
Create your ritual to co-create what can contribute to our new world ahead.
Give your intentions the warmth of light.
Through the darkness and into the light we will eclipse and activate what is next.
Shine on ~
Namaste,
Anne
Special Super Moon Support Meditation