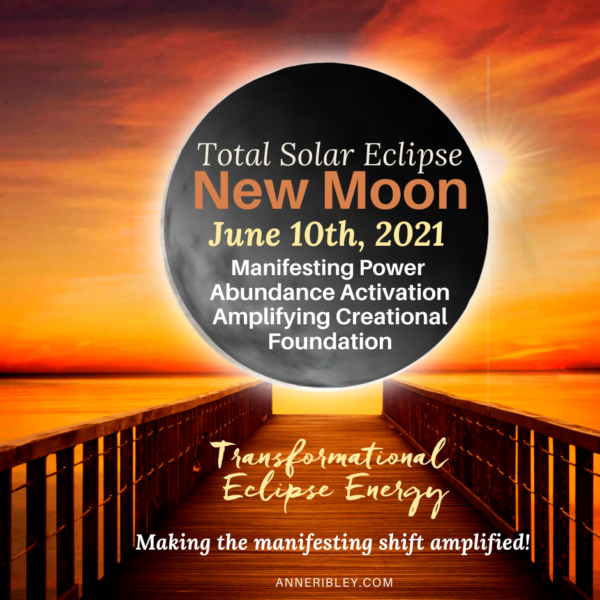 Solar Eclipse Transformational Energy + Manifesting New Moon Ritual ~ Thursday, June 10th, 2018 ~ Let your light shine on the heart of what matters for your meaningful momentum in this opening to a new manifesting cycle. 7 easy steps New Moon Ritual.
We are in a highly charged activation time for more abundance. Whatever is focused upon now will multiply and amplify. Use this powerful portal of the Solar Eclipse New Moon to connect your focus with the new creational foundation coming in. Walk to the edge of your known and welcome new manifestations in that lives beyond all that has gone before.
Open your honest heart and spark your desires and dreams for the new foundation seeking the future vision being co-created currently both on an individual and collective level.
June Focus for the Solar Eclipse New Moon:
1. MANIFESTING POWER

is supercharged in the solar transformive eclipse energy-carrying in manifesting power, shaping a new structure. What do you want to manifest with this power? What's the shift you are devoting your focus for that flips the storyline from long-held disempowerments to something energizing and empowering?
2. ABUNDANCE ACTIVATION.

More is here and multiplying and what kind of abundance are you rooting into the new forming foundation? More of the old? Or more of something completely new? It's activating and amplifying right now with more abundance.
3. AMPLIFYING CREATIONAL FOUNDATION.

New foundations are forming inside and out in the world. What are you amplifying into creation? These are questions, reflections, intentions, and directions that you can create a ceremonial ritual to help carry the passage and transition into the transformation being asked of you at this time. Every one of us is being asked to contribute to new creational foundations, what are we going amplify into form? Reality? Align to the truth of your heart matters.
Write it right (pen to paper - antenna to God/Universe/Source let the abundance amplify and be known!)
Use the manifesting new moon ritual to accelerate with intention the abundance multiplying.
In this 21-day Miracle Stream Mantra Challenge Experience, you will connect to the miracle stream ready to support and carry you for what is needed for you now.
The Miracle Stream experience is filled with daily mantras, immersive meditation experiences, and specific journal entries for synchronizing a stream of miracles immediately into your life.
Daily Miracle Mantras

Deep Immersion Subconscious Programming

Mini Meditations 

Daily Miracle Reflection Prompts
Join the Miracle Stream for the next 21 Days for 15-20 minutes a day.
Pick the price that works for you (3 Options)
Get your prosperity momentum going in this 21-day Prosperity Mantra Challenge Experience, you will not only rediscover the blessings in your life, you access the energy fuel to super-charge your prosperity path.
Let your next 21 days be filled with daily prosperity mantras, immersive wealth deepening meditation experiences, and specific journal entries for shaping prosperity immediately into your life.