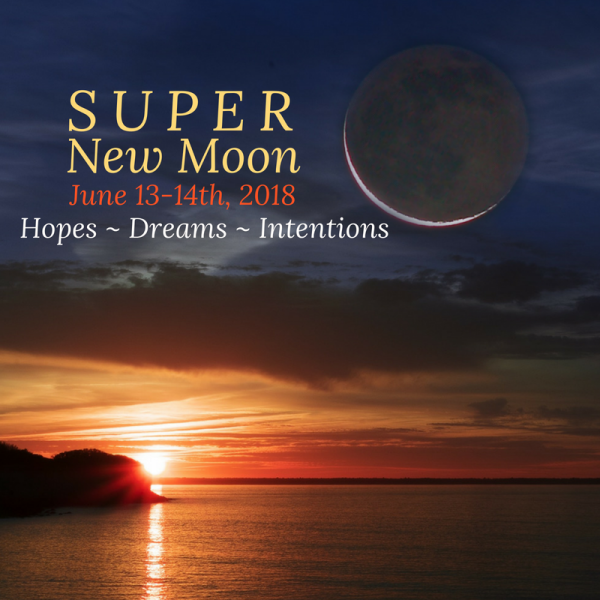 This is the first of three consecutive super new moons for 2018. Super-charge your manifesting cycle with the New Moon Ritual for June. 
We are now seeding the dreams and intentions that we will harvest in the fall. Grab your magical time. Reduce the distraction. Go deep inside. Connect to the unified field of possibility. Use this sacred solstice energy to ignite your soul-inspired intentions.
A fast-moving momentum of energy is stirring inward and outward. It's circulating rapid-fire. It's going to take tenacious focus to reel in the energy of what you really want to create for yourself over these next few months.
We are in a natural amplifying time with the super new moons being so close to earth. It's going to be extremely important to get clear and grounded on what wants to be created, or you will find yourself swept up in energies or circumstances of others or the world.
June Super New Moon Focus:
1. Planting Seeds of Prosperous Intentions
This is your time to plant the seeds for the expansion that wants to come through for you. It's time to plant the seeds and nourish your life in all ways that support your growth. Start by turning toward what you want to create and how it will make you feel when you have that. Next, determine how you need to be supported. You are not alone in helping to call it forth. You can align with the Divine through-line.
2. Energy Clarity
We are all in the period of evaluating our energy around time, value, exchange and the clarity to know what ways we want to connect for the balanced relationship we seek right now.
Where have you been holding your energy back?
Where have you been letting energy get drained?
Where haven't you stated what exactly you need?
What is working?
What isn't working?
What are you willing to clarify to get nourished and supported?
3. Enriching the Relationship Connection
What's the relationship in question for you at this time? How can you shift into a deeper connection with what has been pressing at your power? Is it family? Health? Homelife? Relationship(s)? Work? Purpose? Career?
Create your "write it right" list (antenna to God, Source, Universe). What is your energizing word you would like to use to connect to the earth energy and manifest into reality? This specific solstice cycle is all about what you want to bring to life over the next several months.
Write your "Solstice Seeds" of intentions:
My seed of intention I plant is ________.
I connect stronger to________.
I am worthy to claim ___________.
My energy word of clarity is _______.
Let it be!
Light your candle and declare fully "BeCome"!
Let your light shine into the world!
Manifest your miracles.
Shine on ~
Namaste,
Anne