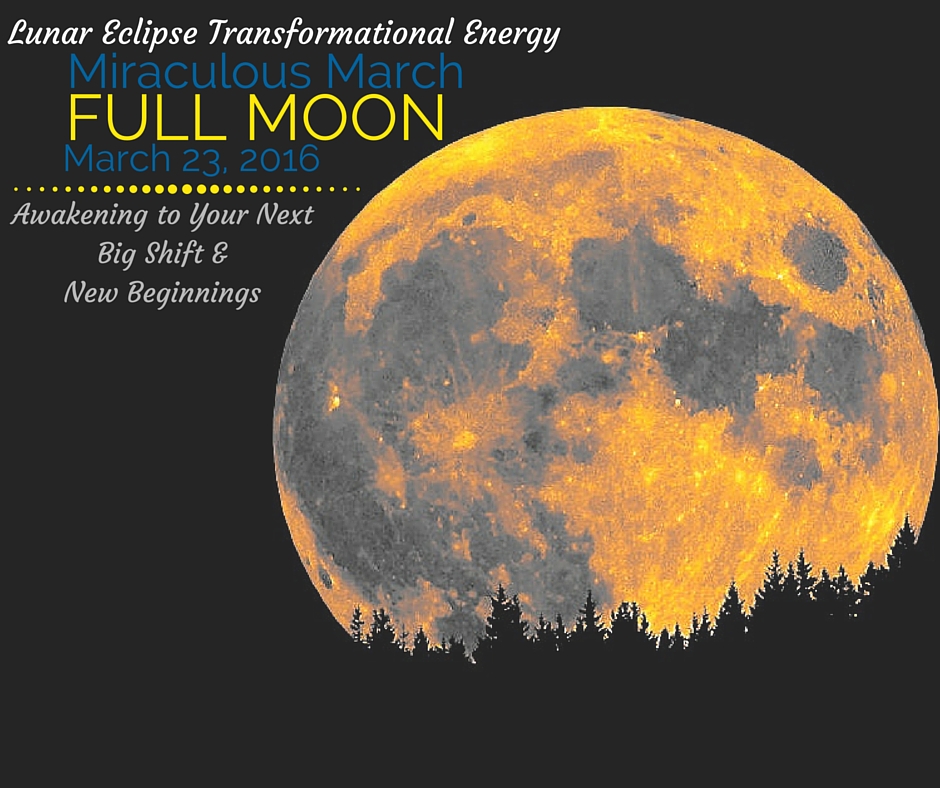 Miraculous Full Moon + Lunar Eclipse Transformational Energy 
~ Wednesday, March 23rd, 2016 ~ 
Create Your Miraculous Full Moon Ritual. Connect to your personal season of transforming change.
Life is in a constant cycle of new seasons. Each one arrives with special blessings and gifts. 
We are in the energy eclipse season of transforming change for March. What is your personal season of change needing to happen?
Transformational eclipse energy naturally causes us to bring closure to something that is now outdated. Perhaps it's an area ready for release and surrender. Or maybe it is time to bring in the truth of something.
This energy movement is all around, and it means something different for each of us. 
It doesn't matter what age or culture you are part of because this connection is real and alive for each of us.
MARCH FULL MOON ECLIPSE ENERGY
Asks us to inquire…
Into the deeper layered shadows that haunt us in a suppressed life area, pattern, story or situation.
Release. Redefine. Unblock. 
Open stronger your healing path to transform.
Personally, something significantly profound surfaced yesterday as I spent a hour with a respected mentor and went deeper into inquiry with my life's path.
I was caught by surprise by some old conditioned beliefs that stemmed from way back that still needed to be uprooted. They were interfering with my whole new path that is now ready to emerge. A clearing happened. An opening cracked with clarity, light and illumination. 
I went to bed last night realizing I am different in a deeply profound way. Something has been made so clear inside of me, a clarity I have been yearning for. I am thankful, I am showing up in my life, doing the work. I slept more soundly and deeply than I have in a long time. 
THE ENERGY IS REAL FOR EVERYONE
The season of eclipse energy gives us a close up look at the emotional body of our lives. 
What long held emotions keep circulating inside? 
Which emotions are disempowering, depleting and draining?
What has been haunting you with perpetual inner disturbances?
Emotions have direct access to influence body chemistry.
Clearing and cleaning the emotional body has a direct impact on health and well-being.
What emotions have you been keeping alive that have now reached a time for closure? 
What new life insights need to be welcomed as you clear and open new space for them?
You can use the spiritual practice of natural alignment with the Miraculous Full Moon Ritual for reflection and release.
 Write it right (antenna to God/Source). Create your ritual of release, and surrender the shadows of energies that want atonement with light and illumination.
Also, it will be important to drink lots of water over this upcoming week while we are in such a sensitive boosting energetic time.
Welcome the transformation that is ready to settle into your path during your season and cycle of change.
Claim your change.
Welcome your transformation.
Shine On ~
Namaste,
Anne
Join the Soul Stamina Plan!

Your Soul Stamina Plan is a 6 week enchanted journey that will help you dream bigger than ever before … and get you deeper in touch with your own manifesting super powers! 
In these 6 weeks of exciting self-discovery you will learn how to:
Attract true prosperity and purpose in your life

Cultivate deeper and more enriched relationships

Gain more clarity and sharpness of mind

Manifest abundant health, more energy and vitality

Enjoy a deeper connection with yourself and life around you