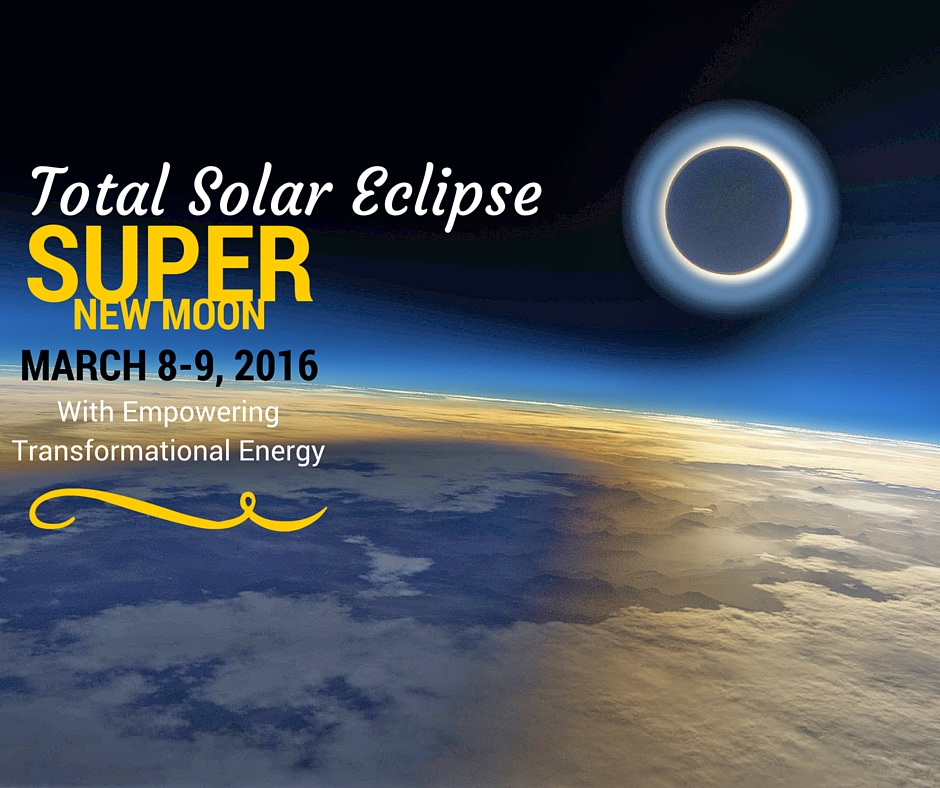 ~ Manifesting Super New Moon ~
 March 8-9th
+ Transformational Eclipse Energy!
March will be the first of three consecutive Super New Moons (March, April, and May). Prepare for this boosting time to super-charge your intentions & manifesting aspirations.
What is the transformational energy available for you during this powerful "Solar Eclipse - Super New Moon"?
You can UNLOCK blocked doorways that hold deeply held desires that you want to be manifested. First, however, you will have to walk through the darker doorway of your "shadow self" as you move to the light of your dreams. 
Recently, if you have noticed any painful patterns surface, recognize that as your call to heal and transform with a profound sustaining shift that is now ready to be transformed. 
For March's Super New Moon:
Meditate. 
Be still.
Give yourself sacred time to reflect.
Let the seeds of your dreams settle into your soul.
Literally, nature is mirroring how to transform during this current cycle as the moon aligns with the earth and the sun to create a solar eclipse representing the dark night of the soul and movement into the light.
Since this is the first of three Super New Moons in a row, (3 is a high manifesting and sticking pattern/number), having clarity with your soul-inspired actions and intentions can unlock your blocked life areas.
You can shed the karmic blocks. Activate your aspirations with awareness that aligns with your well-being and brings new light to your manifesting dreams.
Stuck energy is only energy that has been compressed. As it becomes unblocked and unlocked, an energy release will shift and spring needed energy forward for you. 
It's a beautiful energy emergence happening right now for you to activate the light of your hopes and dreams.
You are connected to everything you need to heal, transform, manifest, hope for and dream to life!
"Shine like the whole universe is yours."
- Rumi
Join the global movement of collective consciousness, and participate in the Manifesting New Moon Ritual to spring forward with your light that is ready to shine. 
Align to the best that LIFE wants to manifest with you!
Namaste…
Shine on ~
Heart Smiles,
Anne
Listen on-demand to the "Holding Sacred Space Meditation Audio" 
inspired during a session of the "Soul Stamina Plan" journey.