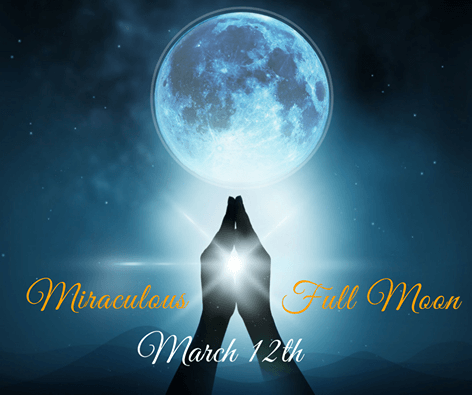 Full Moon March 12th
Bring in a soulful Sunday with the Miraculous Full Moon Ritual for March. All progress moves in cycles of transformational change. Take time for your soulful ritual of release, and invite the miracles you seek. 
You are a remarkable soul here to live a truly inspired life. 
You can use the spiritual practice of the Miraculous March Full Moon Ritual to enter into the clarity you desire right now at this exact time. Accept the healing and transformation that is calling to you.
3 Focus Steps for Miraculous March Full Moon Ritual:
1. CLEARING THE SPACE: Write it right - Pen to Paper (Antenna to God, Universe, Life, Source, Universal Loving Presence) Let go of that which is ready to be released. Toxic tendencies have been making themselves known, and now is your time to experience a ritual of release and forgiveness that leads to your freedom.
2. SURRENDER THE FEARS: What fears are shrinking you and disconnecting you from your true soul inspired life? What has hurt you or held you back in smallness of spirit? Release the addictive tendencies to feed those fears keeping you held back by self-imposed walls. Let your soul speak. Open space to heal and transform.
3. HURTS CAN BE HEALED: All the deeper areas that have been aching to be healed, can be. Begin now. Let your clarity claim the miraculous change. If you have had financial pain, relationship pain, physical pain, or situational pain, you can claim a healing. Now is your time to call in a new chapter filled with a healing release in the area you need.
The simple spiritual practice of the full moon ritual heals and transforms. Healing is at the core of life. Connect to that most sacred source that is ready to serve your healing transformation now.
Shine on ~
Namaste,
Anne