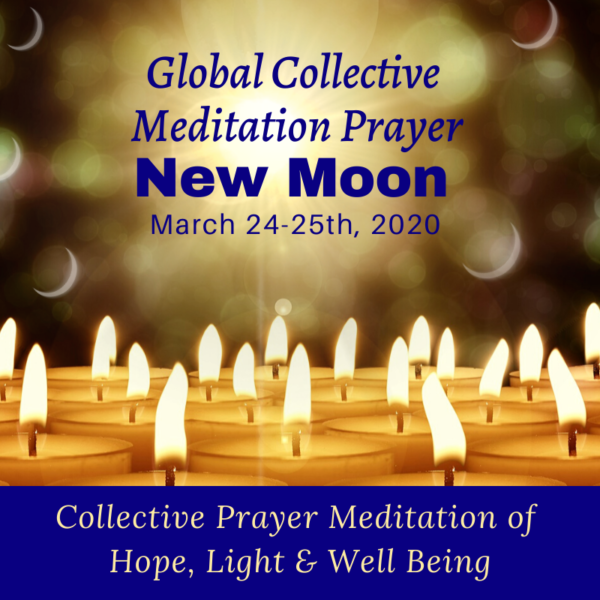 New Moon Prayer Meditation Event on Tuesday, March 24th at 7pm PST.
Let's join together on the day of the new moon around the world with Collective Prayer Meditation of Hope, Light & Well Being. Together, we can uplift our prayers, intentions and visions the night of the New Moon. Light a candle of intention together and hold power prayer space.
So many people are suffering in a multitude of ways physically and financially. Let's create a collective prayer wave worldwide. Together, around the world, we will bring our hearts and souls on the night of the new moon. We light give prayer intentions together and light our candles.
Let's lift the consciousness of our collective energies to a lighter and brighter possibility for all. Let's create a cascade of a million lights on around the world. Tell your friends. Join with millions of others, and create a powerful meditation and prayer ceremony on the night of the new moon.
Prayer/Connection together in prayer and meditation at the same time holds immense power. You can show up in whatever way holds sacredness for you. Doing this during a new moon aligns us with nature we are all connected to. There is power in the alignment with the natural boosting time of the new moon to magnify prayers and intentions and coming together.
Together, we are stronger. Hope is the foundational essence of well-being right now.
Let's shine bright in connection.
Namaste,
Anne
New Moon Prayer Meditation Event on Tuesday, March 24th at 7pm PST.
Dial-in Direct number (US): (319) 527-3006 get a candle to light at the close of the prayer.
International dial-in numbers: https://fccdl.in/i/anneribley
Online meeting ID: anneribley
Join the online meeting: https://join.freeconferencecall.com/anneribley