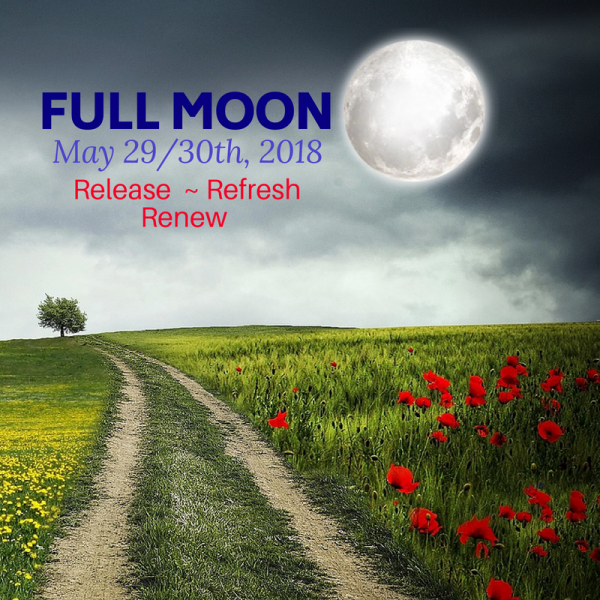 Open up.
Transform. 
Allow.
During the May full moon, you have an invitation to access, activate and boost your personal power into fullness. 
Your soul-inspired self that holds your highest visions of dreams and possibilities is calling to you from your future self, yet you may have felt the weight and pulling of the past holding you back.
Now is the time to shift and re-shape.
You can use this full moon time to break free from the past pains and patterns that imprison you and keep you small. You are ready now more than ever for this shift. You feel the deep need to honor your life's future vision that calls to you.
May Miraculous Full Moon Focus:
1. The Wounds of Feminine Power are Transforming and Healing.

The feminine power is the intuitive, receiving energy that nurtures new creation. It is now opening up. You are free to prosper in your power. You are ready to show up and be a better receiver of your dreams. Stand up and say yes to your dreams. This full moon brings to light what wants to manifest in a new way. Let go of all that stands in the way as you deepen your stamina with personal power.
2. Leaving it Behind for a New Beginning.
You are looking deeply into your habits, behaviors and 
patterns that need to be left behind so you can call in your new beginnings. You can feel it growing stronger in you, and you are making the necessary changes in the life a
reas where you need it the most. You have been surviving too long in a way that doesn't support or serve you. Release it for the new to come through.
Something completely fresh and new is manifesting.  Let yourself receive it. Weed out toxic entanglements that keep repeating patterns that rob you of your personal power. Unhook the unhealthy and
 toxic. Do a spiritual housekeeping for your soul to shine with honoring and loving yourself.
You can participate in a Miraculous Full Moon Ritual anytime in the next few days. All of life moves with cycles, seasons and rhythms, and this gives you the chance to be in sync with your personal cycles. By doing so, you naturally help release the struggle and the unnecessary suffering.
Let the miracle of you happen.