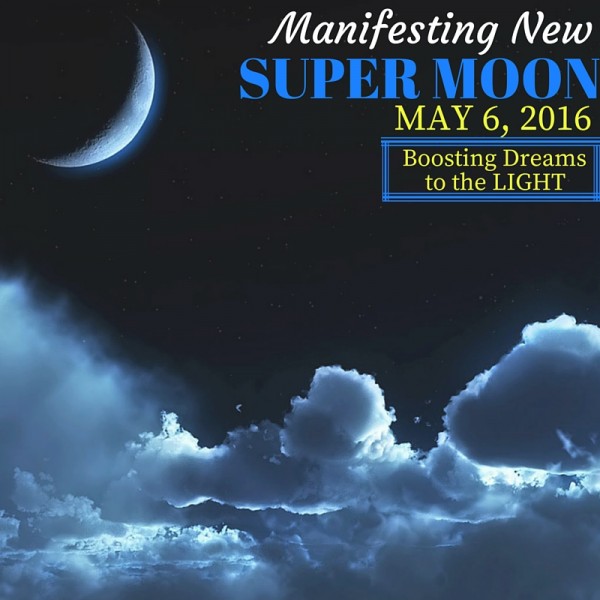 Manifesting
Super New Moon 
 May 6th
This will be the 3rd consecutive SUPER new moon. 3 is a highly materializing number. We are in a cycle with sticking power.
This weekend will be a powerful time for SUPER-charging your manifesting with a simple spiritual practice. May is Your Manifesting Month with the New Moon Ritual.
Here is the important catch around this powerful manifesting cycle. We are in a period of many retrograde planets including Mercury retrograde which means a slowdown to retreat, reflect, redefine, redesign, rewind, redirect and connect to your upgrade that is ready to manifest for you.
"Travel by foot. There is so much you can't identify at top speed." ~ Cheryl Strayed 
MAY Manifesting New Moon Focus:
1.VISIONING FORWARD
Time to slow down and get clear on what your vision is that is ready to meet and match up with manifesting momentum - momentarily slowing down for clarity.
2. CONNECTION
Clearing the clutter from moving too fast in life either in busyness or noisiness of unclear thought to connect deeply enough with the core of truth ready to come to light. Maybe you deeply desire connection with abundance, yet you have found yourself caught up in a connection of lack. Maybe your heartfelt intentions are to be in a stronger love relationship, yet you have found yourself in connection with hurt and separation.
This is the time to clear the clutter with a reset of what you need to give a stronger intention and connection to from the core of your center of truth.
3. MOMENTUM
What new ritual, system or powerful change can you add momentum to your life to support your manifesting intentions? Better sleep routine? Daily meditation? Better boundaries with something? Relationships? Work? Exercise routines? Healthier eating? Build momentum with a new ritual that supports your change.
"Ask yourself: What its the best I can do? And then do that." ~ Cheryl Strayed
Use the spiritual practice of the Manifesting New Moon Ritual to give honor and love to the life you are to embrace. Let your inspiring dreams emerge into the light of life.
Use some sacred time during the next few days for a 20 minute retreat.
Write it right (Antenna to God).
Light your candles.
Shine on ~
Namaste,
Anne
Listen on-demand to the "Holding Sacred Space Meditation Audio" 
inspired during a session of the "Soul Stamina Plan" journey.