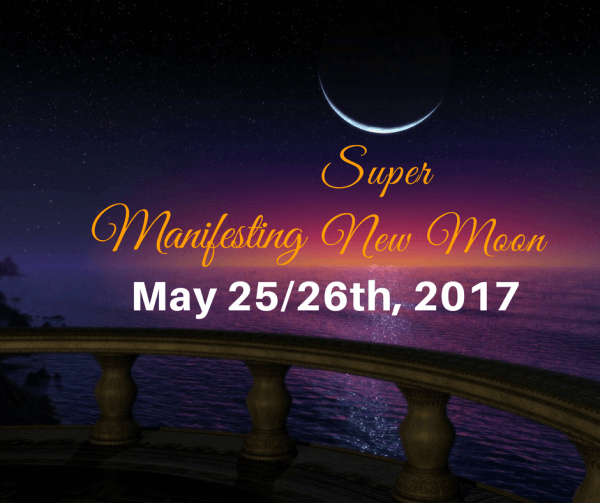 May 25th
SUPER
New Moon 
This is 1of 3 consecutive SUPER new moons (April + May + June). The number 3 is a highly materializing number. We are in a heightened cycle of paradigm shifting for new possibilities to take shape.
We are coming out of a profound reflection period of retrogrades that have stirred our souls into a period of retreat, reflection, redefinition, redesign, rewind and redirect toward a more truthful creation from our most authentic expression.
MAY is Manifesting ~ Super New Moon Focus:
1. Embodying Your Paradigm of Possibility. It is time to connect to your soul inspired place that empowers and honors the possibilities that are ready to step forward for you. Let the energy of the powerful force field of protection and manifesting intention integrate into your being.
2. Integrating Your Soul Inspired Connection. It is imperative that you strongly activate your authentic intentions for expansion. You feel the old paradigm shedding deep down inside of you. Don't let what has felt like choppy waters swallow you. Claim your inner space and accept and receive the support that is present for your soul inspired space that manifesting springs forth.
3. Finding Foundational Freedom. If you have felt your foundation being shaken or shifted in some capacity, don't let fear pull you down or paralyze your forward movement to foundational freedom. A new paradigm is being asked of you for your own expansion. All of us have felt it in some area of life's relationships as a radical rebirth is taking place. What is the area of most significance to your soul's next life expansion? Personal relationships? Intimate relationship? Health/Well-being? Financial? Career change? Family? Community support? Purpose finding?
Use the spiritual practice of the Manifesting New Moon Ritual to let your inspiring dreams emerge into the light of your life. Open up to the harmonizing help that surrounds you and wants to support you, help you, heal you, and transform you. 
Do the light work, and let the shadows shed themselves. 
Write it right (Antenna to God).
Light your candles. 
Let the soul inspired manifesting shine.
4 Week Teleseminar Starting June 8th