August 25th 2014 ~ Manifesting New Moon Ritual ~
Join the collective global connection of bringing light to hopes and dreams. In over 50 countries around the world, candles will be light with prayer and intention for hopes & dreams!
The time of the new moon (when the moon is dark and just coming into light) naturally symbolizes the time to bring the light of our hopes, dreams, intentions out and into the world. The new moon is an invitation every month of new beginnings. A fresh new natural cycle. New opportunities. New possiblities.
The simple Manifesting New Moon Ritual anyone can do at any age. It's powerful and liberating. Naturally uplifting us towards our desires to manifest as dreams.
Please don't worry so much. Because in the end, none of us have very long on this earth. Life is fleeting. And if you're ever distressed, cast your eyes to the summer sky when the stars are strung across the velvety night. And when a shooting star streaks through the blackness, turning night into day ~ make a wish and think of me. Make your life spectacular. I know I did.
~ Robin Williams ~ closing speech in "Jack"
Light it bright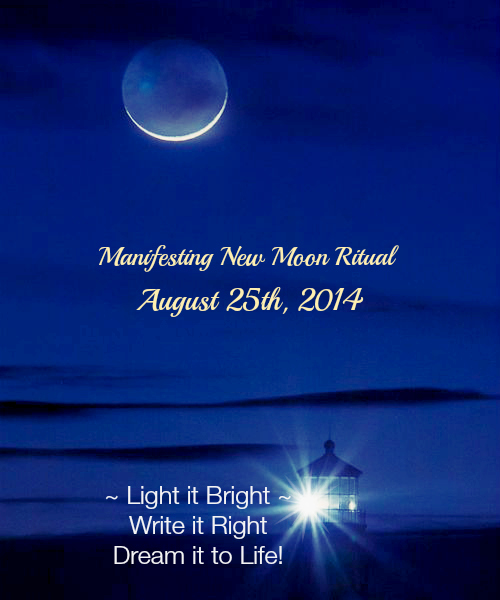 Write it right with a list of prayers and intentions you are ready to manifest (Antenna to God, Source).
Let your dreams come to life! Light your candle!

Declare… BeCome!
With a thank you, feel the gratitude.
Let the miraculous come through for you.
What you seek… is seeking you!
- Rumi
Get into powerful resonating rapport with your heart's desires.
Let your light shine into the world!
Shine on ~
ANSWER TO A VERY COMMON QUESTION:
Q: Does the Manifesting New Moon Ritual only work on the day of the new moon?
A: You have a three day window to best use the natural boosting time window of the new moon (and full moon), the day before, the day of and the day after. Choose whatever day is best for you in creating the sacred space to properly give your attention and intention for your personal best moon ritual experience.
Support for your Manifesting New Moon Ritual (Streams FREE Below):
Creating Sacred Space ❤ Heart Centered Mediation
Need Clarity on a Situation? Check the most recent Empower11 Radio Show!
Quit? or Keep On Going?
We can get caught in the "in between" land of life. Not quitting when we should. Quitting when we should keep going. Both have incredible power to shape the overall quality of our life. Join the conversation as we explore how there is a time to change the course and there is a time to stay the course. Get clarity to know what is right for you.
Manifesting New Moon Ritual! My family needs this gathering of connection and intention. I love sharing this simple, yet profound ritual with my family because it matters.
It's a great gift for a reset, to honor a new beginning and a new cycle of energy. Time to reflect on the peace we desire to have in our hearts. To know our new intentions, we want for ourselves and for each other. A chance to proclaim and create new energy. New actions. Helping our lives become better. Allowing in freshness and renewal. Lessening the dullness from the mundane of day to day. A brighter and lighter, more shinier version of ourselves. 
I know the gift of renewal is always available and not exclusive to the new moon. However, following the natural cycles serves as a powerful grounding spiritual practice of connection. A natural time of alignment, my family knows we share this together twice a month as a family ritual so they are automatically on board to connect.
Shedding what isn't working (full moon) and setting new intentions and prayers (new moon) for new manifesting desires. 
We are better as individuals and we are better as a family. It's miraculous. It works similar to that great night's sleep, you know the one where you get that deep undisturbed rejuvenating reset that only sleep can give. I call those magnificent deeply restorative sleeps, an infusion of God energy. We feel so much clearer. Balanced. Energized. Productive. We are in a deeper union with ourselves in an easy natural way. 
Gather your family. Share with someone you love or care about. Keep your moon rituals easy so you can sustain this spiritual system in your life.
"Be the change you wish to see in the world." - Gandhi 
What a gift you can give yourself. Thank YOU for showing up for yourself. It matters! You matter…
Namaste,
Anne