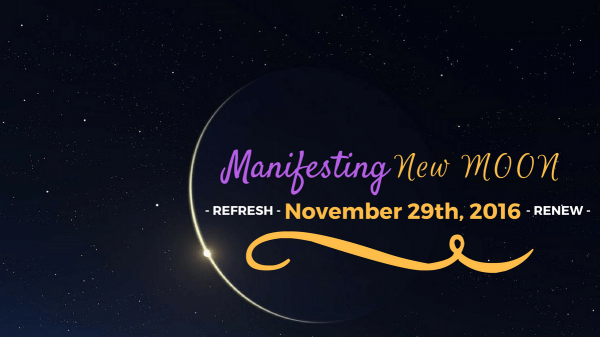 Manifesting New Moon Ritual ~ Tuesday, November 29th 2016
Refresh. Reset. Renew.
Enough of the dark and heavy shadow energy that has been looming for a long lingering cycle! It's time to stretch into the meaningful and significant light of dreams and intentions. Let's begin within each of our own hearts and souls.
Nourish your soul. Relax into the acceptance for where you are today, so that you may plant the seeds for what's next in the grounded soil of your life.
Begin a new start. Look to the year ahead. What are you envisioning for yourself? Time to think bigger. Put plans into place. Expand the energy around areas that have been stuck by bringing out the light of deeper intention-based dreams.
3 Focus Steps for the November New Moon Ritual
1. REFRESH YOUR RELATIONSHIP CONNECTIONS: We are still in the deep healing of a relational connecting time, a time of bonding stronger. Look within your reach for what you can offer to your relationship with self and others, such as honesty, healing and steps toward restoration.
2. RESET: It's time to reset the restlessness that as been stirring personally and on broader planetary levels. Connect to the supportive new cycle that will lift and expand your energy. Pen to paper, antenna to God (Source, Universe, Creation) and write it right! Let the reset begin!
3. RENEW: Make new your personal manifesting cycle with the spiritual cleansing that renews your spirit. 2016 has been filled with non-stop emotional dust stirring and clearing. Let your spirit settle into the renewal that is ready for you.
Activate the light of your dreams to move into manifesting form.
Give attention to your intentions.
Every month well over 60 countries continue to join in the global collective event "Million Lights On" as we individually lift our hopes and dreams to the light.
You matter. Your dreams matter.
We are lighting up the world with our hearts of hopes and dreams.
It's what we need to rise up.
Shine on ~
Namaste,
Anne
My willingness to RECEIVE sets my dreams free!
Practice being willing to receive your dreams! Yes, take notice and become strongly aware of a new energy that you can bring to your day and life with complete willingness to receive your dreams! Have a wide open heart ready to receive your good, as you set your dreams free. 
Repeat the mantra over and over again all week, let your dreams live free and as you become fully willing to receive!
2017 Soul Stamina Session Begins

Super-Charge Your Manifestations!