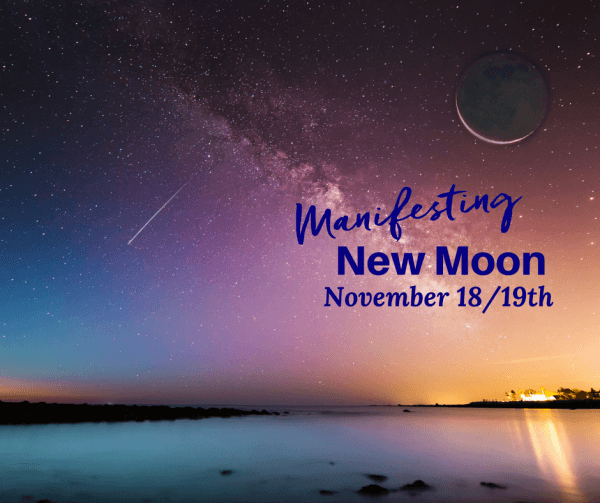 November 18/19th Manifesting New Moon
We are at powerful manifesting intention weekend. Take a soul reprieve, and plant the seeds of your manifesting dreams.
Now more than ever, it's time to give substance and soul to seeding your dreams. What are the seeds that need to be planted now for you? What changes do you want to grow into?
By aligning your moon ritual to your true inspired intentions, you naturally begin to transform and outgrow the circumstances or energies around disappointment, scarcity, lack, or feeling stuck. There has been tremendous suffering and pain that needs to be balanced in the light of your dreams.
November Manifesting New Moon Focus:
1. CONNECTING TO YOUR CORE: Integrity is integrating us into our core connections to balance, self-honesty and love. Have you felt it? This is the honest communication you have been feeling inside yourself and in your life. There is a deeper desire in your relationship with your true soul self to integrate deeper with your original knowing that lives at your core connection to your truth, your strength, and your power.
2. TRUTH SPEAKS THE SECRETS: You have much inside that wants to express. Whatever has felt suffocating to your soul is now ready to release. Unpack the truth for you. What is true for you in your hopes, dreams and most aspired life to live? You have secrets with the Universe that are highly inspiring, and now is the time for them to be planted. You are worthy of letting them breathe life and to plant their possibility of life. Plant the seeds of your dreams.
3. PROSPERITY AND ABUNDANCE: You can claim it. You have been dancing with your worth in many areas lately. The answers is, " Yes, you can be in natural prosperity". Prosperity is a word that comes from pro-spirit, a state of being in the promise of your spirit. Plant the seeds of your prosperous dreams, and your attention will allow the abundance that wants to come through for you to show up. This is your manifesting cycle to plant the seeds of prosperity for your natural abundance to flow toward you.
Use this weekend to write it right. (Pen to paper - Antenna to God, Universe, Creation) Set your manifesting intentions.
Create the clearing space. Light your candle. Align with the shooting stars. Aim high and far. Let your truth shine. 
Shine on ~
Namaste.