Miraculous Full Moon October 2014
A Blood Full Moon with an Eclipse!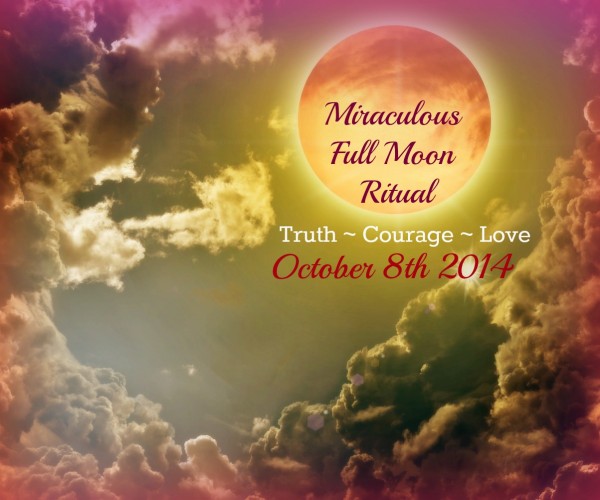 The sun + moon + earth will pass through a precise alignment of simultaneous sunrises/sunsets globally casting orange and red tones or ring around the moon. A profound wonder of nature reminding us of the unifying power of connection!
Your life's journey is your own, however always know you are never alone.
You can join the many others who will use the transformative power of the Miraculous Full Moon Ritual as a beautiful time of connection to create better balance and alignment with life.
Bring the light to the darker energies that need to go. Shed the layers. Lift the burdens. Release the struggles. Let go of the blockages. Your worries, your fears, your anxiousness, your hurts can be surrendered in the spiritual practice of the Miraculous Full Moon Ritual. Forgive others. Forgive yourself. It's living the phrase… let go and let God.
Healing isn't something you do. It's something you allow and surrender to. Struggles are most often centralized on fear. Align with your Source of being and allow your healing with anything weighing on you… past hurts, a current unsettling situation or unknown future outcomes.
Let your light shine. Synchronize on your journey of truth!
This full moon's energetic focus: Truth ~ Courage ~ Love!
Truth is tenderness.
Courage is vulnerability.
Love is connection!
All great change happens for those willing to take the small steps. The Miraculous Power of the Full Moon Ritual is a small monthly step of spiritual practice that can move mountains!
Let your journey be brighter and lighter!
Shine on ~
Namaste,
Anne
"The quality of strength lined with tenderness is an beatable combination."
-Maya Angelou
The Simple Steps of the Full Moon Ritual:
Create a sacred space with meditational music. (Free Streaming Preview Below)

"Write it right" (pen to paper - antenna to God) on a piece of paper all you would to relinquish. This is all the darker aspects of your life. The more specific the better. The areas where you need Divine help to heal whether it be something on the inside of you or a life situation.

Set in the fireplace and let the paper burn. (Can use parchment paper for easy burning.)

Announce the words out loud with full intention, I Relinquish! BeGone!

Stay open to the miraculous and watch your prayers begin to manifest.