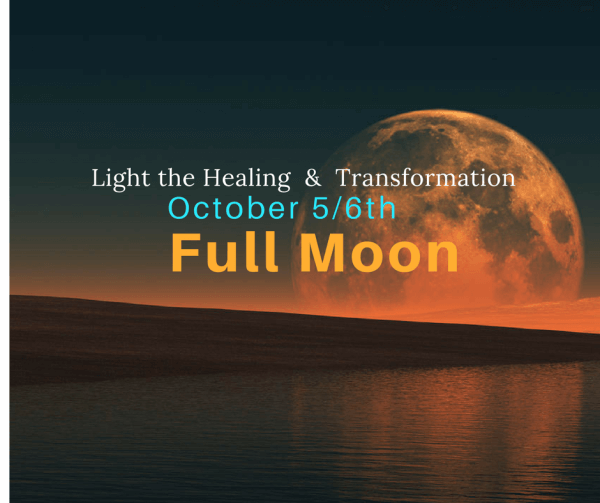 Full Moon 
October 5/6th
Illumination. Connection. Healing. Release. Renewal. Transformation.
We are being called in so many ways to heal into our own wholeness. 
The full moon is a boosting energy wave that happens in the natural timeline of life. Most of us are moving in the Gregorian calendar method of time (more of man-made tracking of time) which can cause an out of sync rhythm and causes us to feel disoriented. We can reduce a lot of chaos by tuning into the nature around us.
The moon is nature's time keeper, moving consistently and rhythmically around earth every 28 days. We can use the time of the full moon to get in sync within our own nature, to heal, boost and transform ourselves. The moon reflects a natural synchronization with time. It is a consistent rhythm of cycles and seasons occurring in a balanced nature that literally moves the ocean tides.
Right now, we are being asked to come into full authentic alignment, to redefine our autonomy. It's time to look honestly and truthfully at our relationships.
What is the trajectory they are following?
What are we becoming in the process?
There is a corrective balance happening for close relationships to settle into their true mutually beneficial space. 
October's Energy Focus for the Full Moon:
1. UNITING THE DIVIDED. Your under, inner world wants to be released and freed. Look to the areas inside yourself or inside your relationships that have been divided, split in separate directions. Look to your close relationships, either personal or work-related, and see where they need to align with your true core values. Uniting the divided starts with each one of us in our very own lives.
2. SETTLING THE UNSETTLED. Redefining. Be courageous enough to resolve your unsettled conflicts, especially in your close relationships. Also, look to those feelings around not having enough. Release the unsettled energy of lack, so you may restore your natural energy of receiving and allowing. What hasn't been said that now needs to be said and will find its natural healthy settlement. Start with your Full Moon Ritual. Write it Right. Let it dissolve into the light and transform.
3. BALANCE. TRUTH. Masculine and feminine energy systems are finding expressions inside and out. Do you step up stronger with an assertive energy, or do you need to soften a hardened energy structure to allow yourself to receive more fully? What is the truth within that is seeking to find balance in your outer world? If you frequently feel depleted, then look more truthfully into the balance between these energies in your inner and outer worlds. This will tell you what you need to release for re-direction and correction.
It's time to shine your truth to the light.
Let go.
Surrender.
Heal.
Transform.
Namaste,
Anne