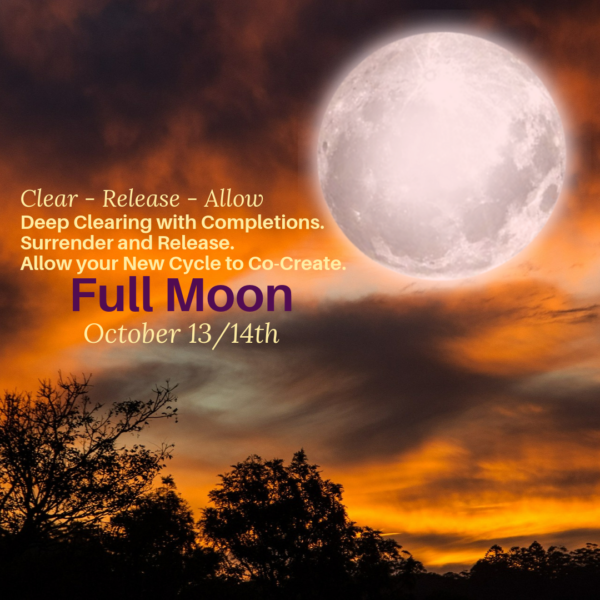 Create your Miraculous Full Moon Ritual  Clear. Release. Allow deep clearing with completions. Surrender and release. Allow your new cycle to co-create with powerful new beginnings.
You will find this full bright moon illuminating the light of truth for you. Use the power time here to help carry you with intention.
October Full Moon Focus:
DEEP CLEARING
1. A powerful deep clearing is here for the release. We have the power to clear the roots of many long held causes of suffering and distortions that distract from our core connection. Use this power to time to tune into the clearing that has touched your soul in a deep way. Clear the way for what has to go… may go. What has reached it's expiration or completion for you? Bless the release.
SURRENDER AND RELEASE
2. Let go what has turned toxic. Whatever life area you have felt the toxic stagnation weigh you down. It's time to surrender the release for your healing and renewal. A powerful deep transformation is on the way for you as a whole power cycle is coming in clear. Let there be space to allow the new coming through.
ALLOW
3. A new cycle is in the workings for you. Allow your new co-creations to transform you with new beginnings. With the new space to create allow what now meant for you to come through. Co-creating in a new powerful way is happening allow what's true for you to come through. Allow the natural lunar movement bring the natural synchronization with your own true nature and the nature around you.
Use the ritual of ritual. Pen to paper (Antenna to God/Universe/Source) to synchronize the transformation you are making right now.
♥️
Shine On ~
Anne
Inside the Remarkable Souls membership you get Connected Support with other simple practices, teachings and trainings, courses and workshops to guide you back to remembering and embodying the unique life print that is already alive inside of you.
Let's DREAM ALIVE because you, my beautiful one, are here to life a remarkable life as the remarkable soul that you are. Join me in the Dream Alive Tribe. Next LIVE Connected Support Call October 24th for Power New Moon Manifesting time.