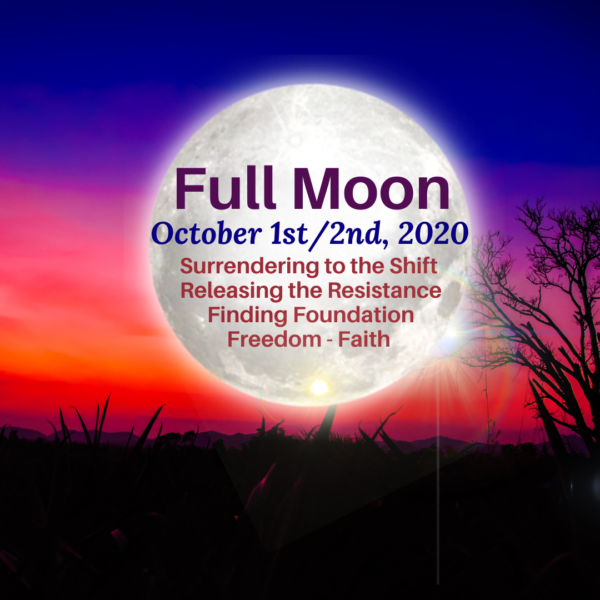 The double October Full Moons begin. The miraculous healings and transformations are now calling forward at this time. You can create a powerful practice/ritual with 5 Easy Steps Miraculous Full Moon Ritual.
The month of October opens with a Full Moon and closes with a Blue Full Moon with Mercury Retrograde starting in the middle of the month. This creates a deeply impactful month of closures to old power patterns. The shift that has been set into motion.
1. SURRENDER TO THE SHIFT.

The powerful wave of a shift has been set into motion. We are inside the creation of a new story riding the wave of transformational change. You are needed now to show up fully to the shift calling for you. Ready? You are needed in all of your fullness for what is next.
2. RELEASING THE RESISTANCE.

The letting go is releasing power held with a forceful fist. The clinching. Gripping. Controlling. Holding tightly. Personally and collectively life is softening the hard edges of falsehoods. The repeating of what is no longer yours to carry is now being released. The slow unwinding review of what is false and true for you is now directing something new. Release the resistance. Relinquish the holding patterns. Free yourself.
3. FINDING FOUNDATION - FREEDOM & FAITH

. We are finding a new foundation within brand new meanings. New forms of freedom are growing. New foundations are emerging with deeper roots of faith for the future ahead. Let your soul sourced feelings give and guide the faith carrying a new future of tomorrow into life.
Start pen to paper. Antenna to God/Universe/Creator.
Release what needs to go.
Transform what is ready to shift.
Your prayers, healings and transformations are needed.
Each of us is leading the way.
Shine your light of truth.
Namaste,
Anne
Moon Support Power Meditations