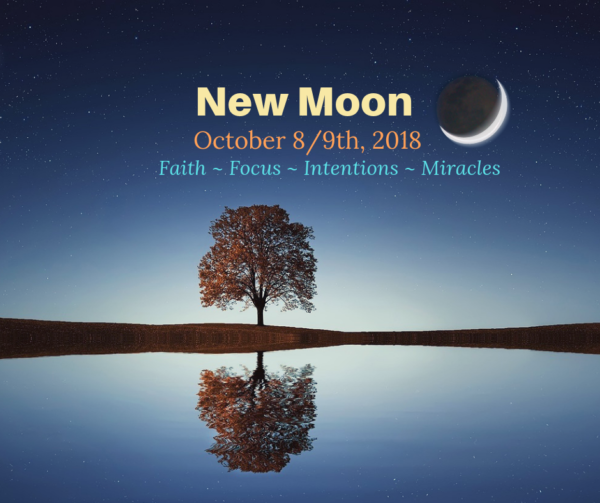 New Moon October 8/9th ~ The new moon is a power ripe time to plant the seeds of new desired manifesting intentions. The New Moon Ritual is a spiritual practice of the ancient wisdom traditions to honor the natural cycles and seasons that we are moving in rhythm with… (7 Easy Steps to New Moon Ritual).
You are a miracle. Your life is a miracle. Let the miracle of what is ready to manifest for you "BeCome" free and clear to manifest into your life. Use this natural synchronistic power time to align with the divine thread of time, rhythms, cycles and season. Use this power-boosting time as a reclaiming of your renewal. New beginnings. New creations. New starts. New stops. New meaningful momentums of what you are ready to manifest with the power of your soul inspired direction and intention.
October New Moon Energy Focus:
1. True Reflections. The transparency of truth keeps reflecting the adjustments and shifts we are being called to make. If you have felt emotionally charged about something recently? Or have been obsessively dwelling on something specific? These energies are guiding to you toward a significant shift. Do not fear. Use this time to recoil in retreat for the resignation over an outdated relationship that needs new energy to emerge out of the dark into the light. New relationship(s) we are all being called to make with our lives that are specific to each of our souls. What is yours? Again, do not fear whatever feels heavy or dark at this time. Use what has felt like a frequent repeating visit of undesired action or patterns to be shifted into the new frequency of faith and focus that is in the light of the miracles ready to be born for you.
2. Ignite the Depth of Your Intentions & Let Manifesting Miracles Shine. Deeply desiring a resolution over something? Trust in the depth of the nudging intentions and feelings that the energies are guiding to you toward something miraculous. Trust the timing to align with your new intentions. Let your whole heart be true and open to what is ready to come forth with a new frequency of energy. A healing energy. A transforming energy. A uplifting inspiring energy for your good. Yes, give sacred time to open the newness that wants to "BeCome" born right now. Unlock and unblock the new pathway of your co-creation with life  built on manifesting intentions that are ready to unfold. Open to the miracle that ready to be seen by you in the light of your dreams, intentions and next steps of synchronicities, synergies of support and coincidences of connection to show up in the light of igniting your miracles.
"Miracles happen every day. Not just in remote country villages or at holy sites halfway across the globe, but here, in our own lives." - Deepak Chopra
Ignite the light of your miracle.
3. Enough. Enough. Enough.
It's moving deeper into the call of your soul. Enough of being silent. Stifled. Stuck. Absorbing what doesn't serve. Whatever has been in the deep dark soil of your life is ready to emerge in your true ENOUGH nature. Your Divine Completeness. You are enough to claim your soul desired life. You now alchemize all that has been absorbed into shifting your focus on nourishing your light to see the miracle manifesting as seeds of your completeness, lacking nothing for you to receive your "soul inspired good". Become aligned with the frequency that supports the vibrating energy for manifesting a miracle within the new momentum you set forth. In this natural rhythm of new energies you can claim the feeling of the new frequency emanating with your intentions simply by aligning with your connection of being ENOUGH to emerge into what is to "BeCome" for you. Expand what you are ready to claim not from a place of lacking or not enough rather from the Divine Truth that you are enough. Right. Now. Elevate. Emerge. Enough-ness.
Use the spiritual practice of the Manifesting New Moon Ritual to let your inspiring dreams emerge into the light of your life. Write it right (Antenna to God).
Light your candles.
Let the soul inspired manifesting shine.
You are the light of your soul.
Shine on ~
Namaste,
Anne