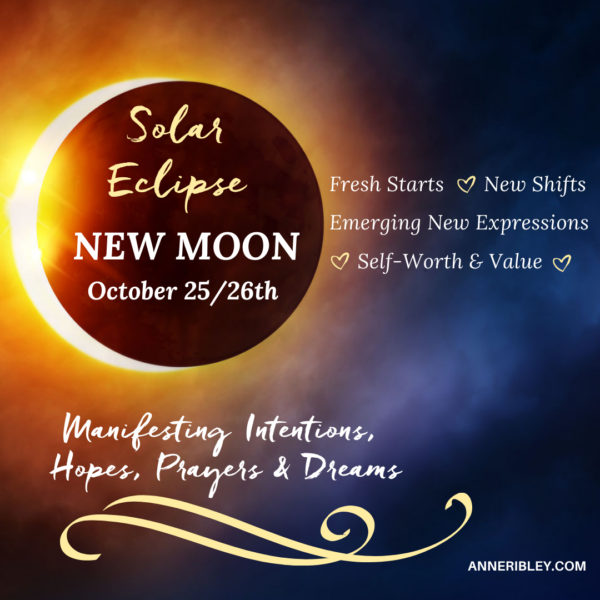 Solar Eclipse Transformational Energy + Manifesting New Moon Ritual ~ October 25/26th ~ Making a worthy shift is being asked for the new to step forward. What is it for you? 7 easy steps New Moon Ritual: >> New Moon Ritual.
Eclipse season is here. Eclipses are BIG amplifying of energy needed to move. A wave of transformation is stirring a profound SHIFT for the change most needed inside each of us if we allow it.
What have you been holding deep inside that needs to come out?
October Focus for the Solar Eclipse New Moon:
1. FRESH STARTS.

The eclipse season offers a fresh start with any long-awaited shift ready to be claimed. Activate the energy that has been wanting to be expressed more fully into your life. If you have been too isolated or alone, the shift of connection with others is your fresh start. If you have been over-connected in the energy of others/world, it's time to connect to YOU (your life energy) more fully.
2. EMERGING NEW EXPRESSIONS.

Wherever there has been suppression, a shift for a new expression is surfacing. You may have been feeling the stirring for a new version of YOU to express. Your inner voice is coming more alive for the world. Let your inner voice express out into your world.
3. DEEPENING SELF WORTH & VALUE

. Whatever has felt lost, hidden, or denied is ready to release a more true path of self-honoring. Where has your worth or value been eclipsed? What dreams, desires and worthy intentions need to be activated more alive?
The Transformational Eclipse of the New Moon offers the energy stream to support a big SHIFT.
Write it right with Pen to Paper - Antenna to God/Universe/Source and let the manifesting intentions of your hopes and dreams become real.
It's time to let your light shine.
Create your Manifesting New Moon Ritual with Transformational Eclipse Energy and be true to the voice speaking inside of you to shine.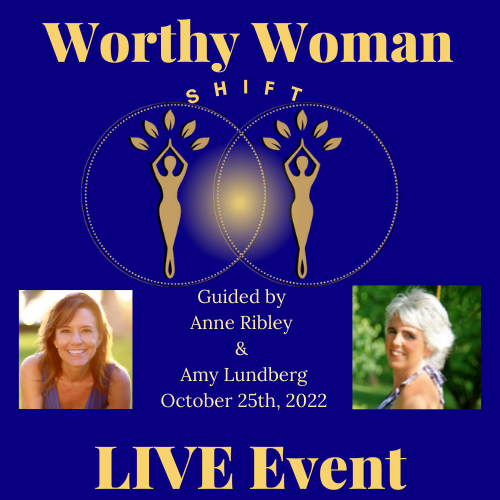 Join the Worldwide Event on the New Moon Eclipse

North America
Times

1:00 pm PST (Los Angeles, CA) (Vancouver)
2:00 pm MST (Denver, CO)
3:00 pm CST (Chicago)
4:00 pm EST (New York) (Toronto)
Worldwide Times

 10:00 pm Oct 25th (Cape Town, South Africa)

 7:00 am Oct 26th  (Sydney, Australia)
EVENT OVER ⬇️ REPLAY BELOW 
Discover the 7 Expression Codes to help you connect to your inner light, to reclaim your sense of deep worthiness.
Drop the struggle and connect to the fire within you… the Inner Knowing… your Soul's Calling…
Reconnect to Your Dreams

Reset Your Body

Release All Self-Doubt

Rekindle Your Light

Recommit to Your Worthiness

SHIFT INTO WORTHINESS
Now is the time more than ever a change is being called forward…a real SHIFT is being asked now.