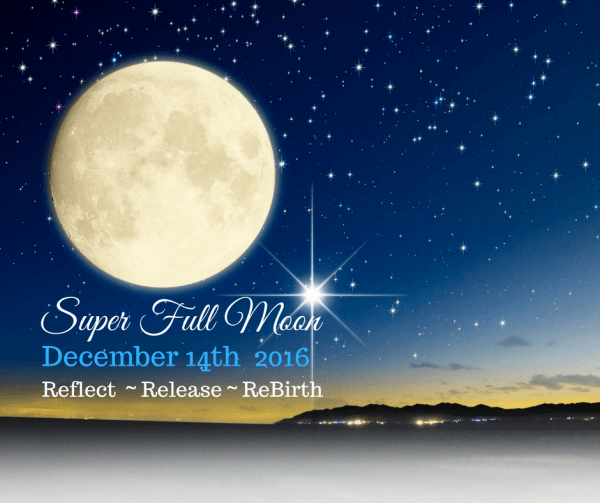 ~ SUPER FULL MOON ~
 December 14th, 2016
THIS IS A VERY IMPORTANT POWER WEEK. Reflect. Release. ReBirth. Use the power of the Miraculous Full Moon Ritual (5 Easy Steps Here). Create your year-end ritual of release. Make space for the magic, miracles and new manifestations on their way to you.

The December Full Moon is an invitation into your own initiation of the Re-Birth that is ready for you. Use this spiritual practice to give ritual closure to the year with the boosting energy of the SUPER FULL MOON to shine and align your soul into your light of truth.

1. ~ REFLECT ~ on your past year. Let the lessons speak, and let the readiness of release be expressed. Write it right (Antenna to God, Universe, Creation). Release your year-end reflection of what has accumulated and collected as weight, holding you back. Release the disappointments, revolving patterns, life's let-downs, pain and suffering, and hurts that have harmed you and others. Purify the energies that surround your soul. The soul of you is the purity of your core connection to the light of healing and transformation.

2. ~ RELEASE ~ with the Miraculous Full Moon Ritual, all toxic energies that have collected, circulated or settled into any form of stagnation. Purify your year-end with the ritual of release. Make space and room for your readiness to receive.

3. ~ RE-BIRTH ~ is being called to you. Enter into your soul's energy that is ready to emerge on the other side of clearing and cleansing. You are a light here to shine bright, and it is time to be the re-birth of your soul's dreams that you are here to manifest.

Do your spiritual housekeeping with the Full Moon Ritual, and allow your gifts of grace, miracles and magic to move toward you.

Making the space to receive your good starts now.
Take the time to "write to right" and release….
Open yourself…

Shine on ~
Namaste,
Anne

2017 is approaching … this can be the year you actually fulfill your true desires that have been calling for you.