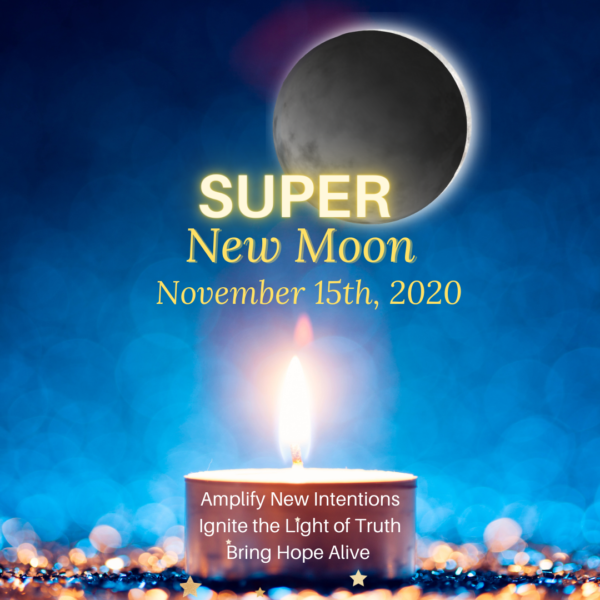 Are you ready? Amplify and boost new manifesting intentions into life with the Manifesting New Moon Ritual.
On this third Super New Moon, we are doing a completing of a cycle for asking deeply what is the world we are creating? Each and every one of us is being asked. How are we using our energy to propel the future we want to live forward in? Every action is amplified in this power-time with a natural accelerated momentum for longer-term effects.
Across all timezones, we are all under the same date of the 15th for the November Super New Moon which rarely happens. It's a connection call.
Have this Super New Moon be a "Scared Sunday" pen to paper, antenna to God, Creator, Source, Universe. Use the #SuperNewMoonRitual to right it write what is needing alignment and activation, inner courage and connection for you.
Nurture your manifesting seeds of intentions and growth filled with HOPE for the new possibilities ahead.
November Super New Moon Focus:
1. IGNITE THE LIGHT OF TRUTH. The transition of taking back your truth. The truth of your own. The truth you are willing to own and plant into tomorrow's seeds of dreams. What are you ready to ignite to life to come alive?
2. PATHWAYS TO PROGRESS. A "new state of being" is currently the call for each and every one of us. What is the pathway of progress needed to activate your progress? Look to what has been in the dark, dormant or suppressed for the light of truth shine light on the pathway for you. Emergence. Energy movement. Connect to the call for you to manifest forward the new future calling to you.
3. CONNECTIONS. COMMUNICATIONS. COMPASSION. What has been displaced, out of connection needing more attention and direction? It's time to communicate, make the connection, and hold the reverence of compassion for yourself and others to be true. It's a courageous gift of truth you are connecting to for new powerful possibilities to progress on your pathway that contributes to the life all around and on every level.
Let your courage speak with profound hope, love, light, and deep compassion the new cycle of creational intentions you will be a part of manifesting.
Allow what is ready to "BeCome" to find real-life in your energy field.
Your worthiness is all and well in your being.
Let yourself name it and claim it.
Shine on ~
Namaste,
Anne
Get your prosperity momentum going as we enter November for a month full of thankful blessings. In this 21-day Prosperity Mantra Challenge Experience, you will not only rediscover the blessings in your life, you access the energy fuel to super-charge your prosperity path.
Let your next 21 days be filled with daily prosperity mantras, immersive wealth deepening meditation experiences, and specific journal entries for shaping prosperity immediately into your life. 
Join us in re-shaping, re-shifting, rewriting the PROSPERITY PATHWAY over 21 days. Get your prosperity momentum going as we enter the month full of thankful blessings. Activate new shaped stamina in the prosperity path for you. 
Daily Mantras

Weekly Deep Immersion Meditational Subconscious Programming

Mini Meditations

Daily Prosperity Intentional Journal Prompts

LIVE Immersion Kick-off on11-11-2020 Prosperity Alignment Activation on 6pm PST.
PRO-THE-SPIRIT of you. Prosperity.
Pick the price that works for you. (3 options)