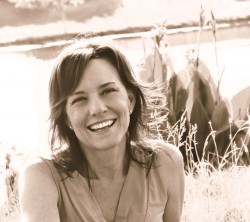 I've always believed that miracles are possible. In my own life, the evidence has appeared in many ways: synchronicities, the defying odds with a lawn mower accident, meeting the love of my life … the list can really go on and on!
I believe that manifestation is miracle-making in action.
If we clear our minds, raise our energetic intelligence and follow a simple plan of action there truly isn't anything we can't acclaim in worthy and meaningful manifestations.
I've given you the first two actions you can take and now here's the final piece.
There are 4 steps I follow as I do my manifestation work…
STEP ONE: Connect with Inspiring Ideas
Everything in the universe is inspired, and we are even physically wired for it.  Getting inspiring ideas, your body chemistry will actually make you feel good. You are wired to be inspired.  
STEP TWO: Leap of Faith and Trust
To activate FAITH you have to take the leap. Say YES to Life… Your dreams… Your intentions… Your inspiring ideas… Profound choice to say YES! Declare it. Proclaim it. Leap toward one step at a time.
Faith is taking the first step even when you don't see the whole staircase. ~Martin Luther King, Jr.
STEP THREE: Surrendering to Your Empowering Growth
Step Three is where we most often get stuck while manifesting our intentions.
What happens is this: no matter where we're at in life, when we are manifesting, creating, growing, on some level we'll hit a place where there are the unknowns, where there are aspects of your own skill set inwardly, and outwardly that need growth and evolving expansion.
Manifesting begins to break down because once we hit those unknowns, we get scared because life is asking of us to stretch, to grow in a new ability, to expand with a skill set.
Catch yourself to see if you're just revolving instead of evolving because it's easy to fall back to just talking about the change or manifesting dreams because it makes us feel good, comfortable and secure.
STEP FOUR: Setting up Systems and Rituals
The fourth step is what I consider the spiritual glue, the systems and rituals that binds the whole plan together. That's what keeps it all happening, the container of real change. 
When we are connected to a ritual or a system and we do hit walls of resistance, that's what helps carry us through without falling off track with our manifesting intentions.
Tool #3: The Easy 4-step plan.
Watch the 5 minute video.

Download the 4 step worksheet and fill it out.

Your mantra for today is…

I am connected to miracles. I am present to receive.
Download the mantra PDF to print out and keep around your home, work space, car and anywhere else that you'll see it throughout your day. There are two mantra options you can choose for printing out to energize. 
One, you can print out and color your own way, which is stress-reducing, creativity enhancing and naturally magnetizing. Or you can print/cut out the already colored mantra and place in significant spaces. 
Remember to saturate your consciousness with today's positive, power packed mantra.
You Completed Step Three!
After just this 15 minute assignment, you'll notice that you have more confidence and inner spiritual soul stamina.
You'll really trust that you can and will manifest your dream life!
Thank you for being with me to do this powerful work and supercharging your manifestations over the past three days.
Let me know how it goes for you!
Namaste, Anne