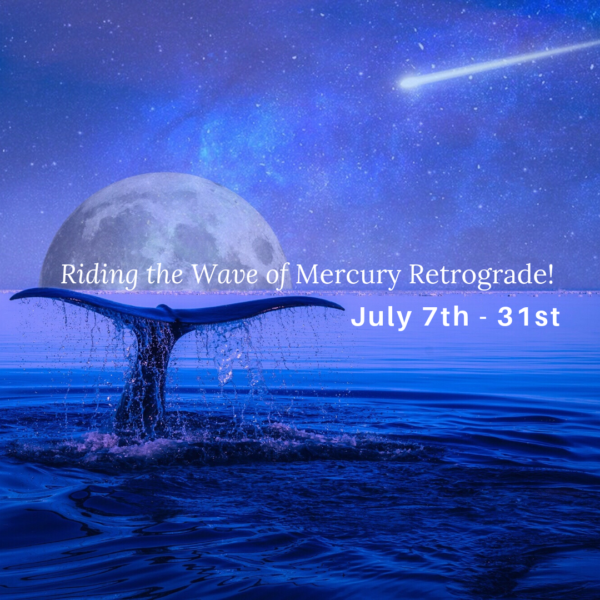 How to ride the current energy waves with Mercury Retrograde till the end of the month. If you have been following my work for some time you know how I emphasis that Mercury Retrograde time isn't something to fear or something get disheveled and out of sorts with.
It's a power time of listening in for what is ready to be course corrected. It's a slowing down and listening deeply to what needs healing, tuning into real feelings that need attention, resolving, clearing, completing and opening up communication channels with more clarity in every life area. To best use the power energy happening this month:
~ Add a new ritual (daily or weekly)
~ Journal
~ Clear space
~ Declutter stagnant energies, items, toxic relationships and/or patterns.
~ Share deeply with a confidant or friend what is stirring and wants more settling.
Create sacred space to listen in closer to the deeper communication inside and with others.
Use this power-time to uplift and expand into your new growing edge. Use your heart intelligence to guide. Allow the rhythm of this month's intense energy cycle with the power eclipse of the moons to recalibrate your clarity to propel you forward with your own quantum leap. What's up for many of us right now is recalibrating the receiving.
Where in your life are NOT allowing yourself to receive or to be received?
Clear the space, open the channels, untangle what has been twisted, fragmented and restore your inherent worthy connection.
I will be guiding a LIVE Workshop + Ritual this Full Moon Partial Eclipse.
Release what has been eclipsed, covered or hidden from your own power flow.
You are a remarkable soul here to shine.
Uncover.
Clear.
Shine on beautiful one,
Anne
~~~~~~~~~~

I will be guiding a LIVE Workshop + Ritual this Full Moon Partial Eclipse details and registration –>
bit.ly/FullMoonEclipseEvent