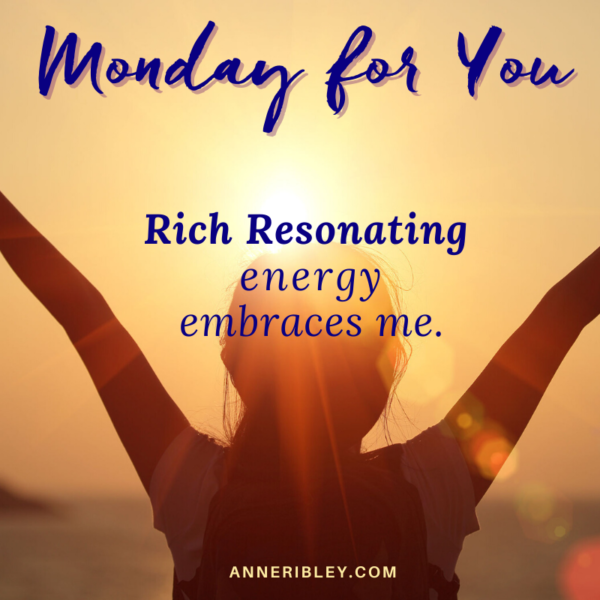 Rich Resonating energy embracing me

!
A powerful 1-11 mantra to work with for this power time. Let yourself be surrounded, supported and infused with the rich resonating energy that embraces miraculous transforming abundance. Feel the protection, feel the good fortune, feel the support of the Universal Loving Presence here for you to feel the inherent worthiness ready to embrace you. 
Begin your week by stepping out of any kind of complaining patterns. Light is the greatest disinfectant of darkness. Complaining invites an antagonist energy against the present. It's darker and heavy. This one commitment will naturally help you rise and resonate with a lighter, freer state of being that leads to a resonating life richness. Make a commitment of no complaining, zero, for the week and you will naturally experience an inspiring energy embracing you. It places you inside your power. Find your hope. Find your frequency. Let the rich resonating energy light your prosperity path.
Allow your commitment to root deeper by repeating the mantra…
Rich resonating energy embraces me.
You will feel a deep grounding of gratitude and clarity embrace you.
Shine on remarkable soul!
Anne
Get your prosperity momentum going as we enter an new era of energy. In this 21-day Prosperity Mantra Challenge Experience, you will not only rediscover the blessings in your life, you access the energy fuel to super-charge your prosperity path.
Let your next 21 days be filled with daily prosperity mantras, immersive wealth deepening meditation experiences, and specific journal entries for shaping prosperity immediately into your life. 
Join us in re-shaping, re-shifting, rewriting the PROSPERITY PATHWAY over 21 days. Activate new shaped stamina in the prosperity path for you. 
Daily Mantras

Weekly Deep Immersion Meditational Subconscious Programming

Mini Meditations

Daily Prosperity Intentional Journal Prompts
PRO-THE-SPIRIT of you. Prosperity.
Pick the price that works for you. (3 options)