I allow the manifesting money overflow to reach me.
Yes, say with me… I allow the manifesting money overflow to reach me. The world needs your good hearted-soul abundant with the prosperity of MONEY. Now more than ever!!!
We are all in the act of manifesting money, that is part of reality. Now it's time to expand an overflow to reach you. If the money you have been manifesting feels, stressful, restrictive, constricted, and loaded with a whole lot of emotions, feelings, and conflictions… let's shift it.
Let's begin with getting real about saying the word… MONEY! Not being afraid to say it without guilt or shame. Owning the word. The energy of the word. The concept of MONEY has been hijacked from a whole lot of sources and forces. Making it harder to have a clean and clear relationship with money.
The word, MONEY is often not said in the spiritual culture. The place where many of the good-hearted soul-charged ones live and enrich themselves. Words like abundance, financial freedom, and more than enough are spoken around the edges of the word for money.
Much suffering, shadow, pain, and trauma have stained the messages of money we may carry deeply in our individual and collective psyche. Causing a disconnect, avoidance, or denial of the energy of money in some capacity. No matter what your bank account says. Whatever your relationship with money is, it didn't all come from you. However, you are the one who holds the healing power to shift your manifesting money relationship.
Let's get inside a trusting, safe, embodied life expression with money.
As we enter Mercury Retrograde this week for the next 21 days. New stories will be revisited, and re-written for the expansion and manifestations ready for you.
This week's mantra… I allow the manifesting money overflow to reach me… is a power mantra. Make your reclamation with MONEY to manifest into the real —- REALITY! Allow the overflow… as vast and as abundant as the ocean, more than enough for all of us.
Let it reach you. Reach is an ancient power word bringing in something closer.
Every word in this mantra is filled with potent energy to lift the frequency of money for you. This is the beginning mantra we will be using in the 21 Days of the Manifesting Money Experience. We will be going deep and specific with word of money and its energy to support good. The good for you. The good for the world.
Use today's mantra to get into a powerful relationship with the energy of money to support your life. You are deserving of it. Worthy of it. The world needs you to have money resources in rich powerful ways for your good.
With all the love for your best.
Anne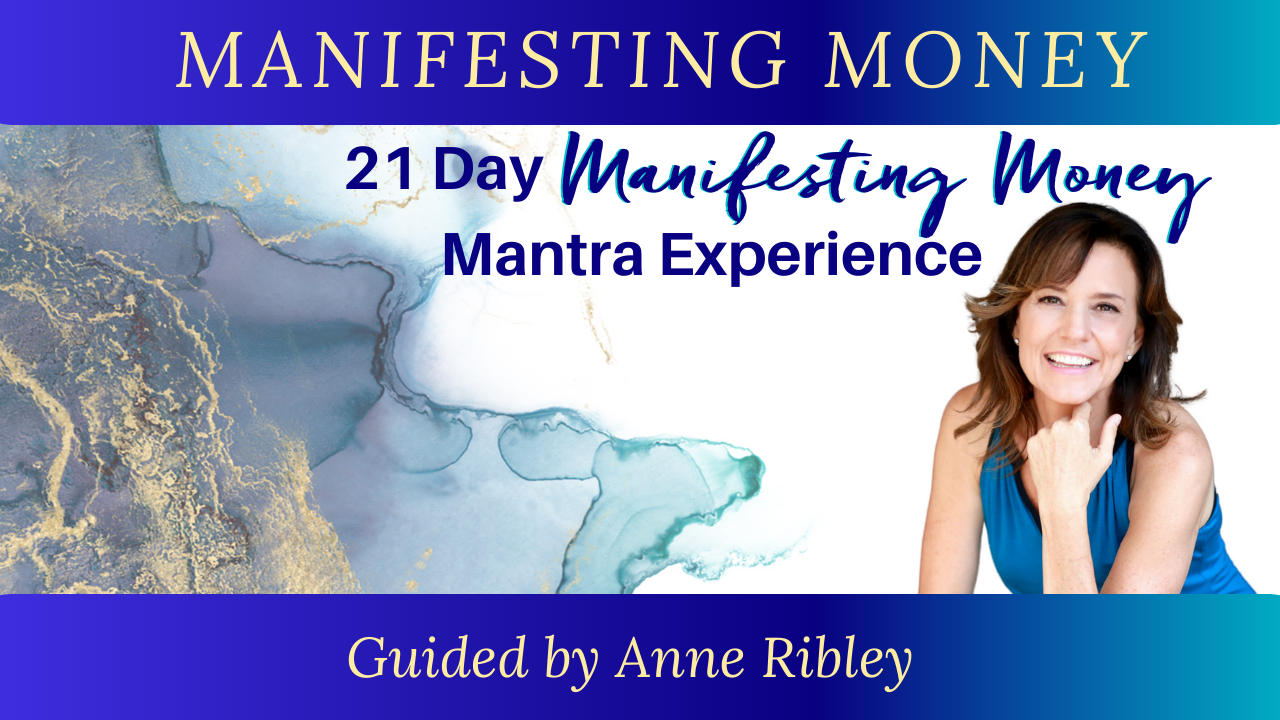 Manifesting Money 21 Mantra Experience
Manifest money with the power of your word to move your money world forward.
Clear Sabotage & Money Blocks

Re-write Your Subconscious Programming

Super-charging Manifesting Money.

Upgrade Your Money Relationship

Let the Energy of Money Flood Your Frequency

Speak a New Upgrade of Money Into Reality
Let your next 21 days be filled with daily manifesting money mantras, immersive manifesting money meditation experiences, and specific journal entries for calling in the flow of manifesting money immediately into your life.