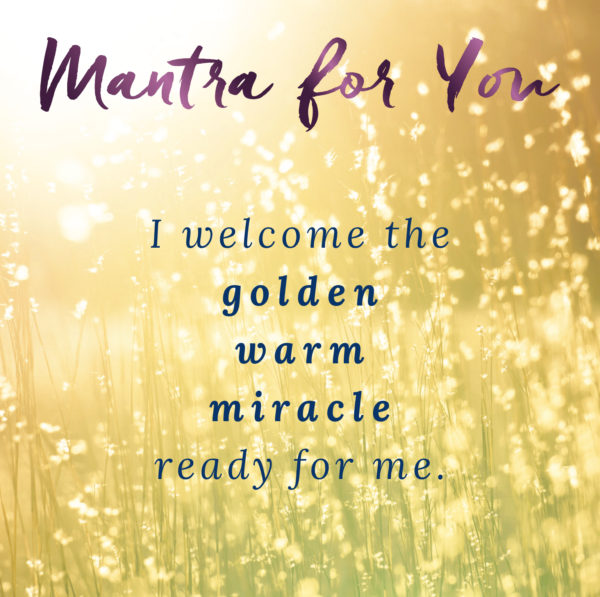 I welcome the golden warm miracle ready for me!
Pick the life area that has felt disconnected, cold and distant, now imagine specifically that person, place or life situation with the embracing energy of golden warmth that calls forth the miracle you are now ready to receive.
Take that situation or person and hold them in the warm golden light for 3 minutes in the morning and at the end of the night.
Welcome the miracle stepping forth for you. It's time to define specifically what you are ready to embrace forward. Hold your faith, focus and frequency on the golden warm light of what is miraculous for you to receive.
Namaste,
Anne
P.S. Take a screenshot put on your phone and make it your wallpaper to hold it close or print it and speak the mantra and hold 3 minutes of intention and presence each morning and before bed and something miraculous will step forth.
Get your prosperity momentum going as we enter November for a month full of thankful blessings. In this 21-day Prosperity Mantra Challenge Experience, you will not only rediscover the blessings in your life, you access the energy fuel to super-charge your prosperity path.
Let your next 21 days be filled with daily prosperity mantras, immersive wealth deepening meditation experiences, and specific journal entries for shaping prosperity immediately into your life. 
Join us in re-shaping, re-shifting, rewriting the PROSPERITY PATHWAY over 21 days. Get your prosperity momentum going as we enter the month full of thankful blessings. Activate new shaped stamina in the prosperity path for you. 
Daily Mantras

Weekly Deep Immersion Meditational Subconscious Programming

Mini Meditations

Daily Prosperity Intentional Journal Prompts

LIVE Immersion Kick-off on11-11-2020 Prosperity Alignment Activation on 6pm PST.
PRO-THE-SPIRIT of you. Prosperity.
Pick the price that works for you. (3 options)