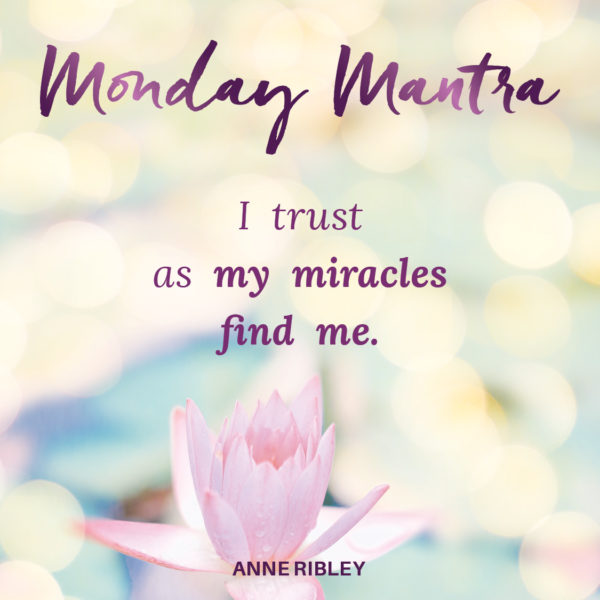 I trust as my miracles find me.
As we start a new year and era in 2020. Trust your miracles to find you. Ask yourself these two important questions to help define and activate your miracles to finding you.
"What do I need, really need?"
Not kind of, sort of need, ask what you genuinely, 'real deal' need.
Next, ask, "Have I given this need a commitment to resolve itself?"
Look to your dreams/goals for 2020 and use these 2 important questions to guide you.
Both of these defining questions activate the clarity of Divine Order to support you with miraculous conditions as your miracles find you. Let the matching manifesting of your true life visions for 2020 come together for you.
Anne
#divinepairing #2020DreamsAlive #trustinyourmiracles
You are invited to join inside Remarkable Souls LIVE REPLAY 1-1-2020 11:11 am Monthly Connected Call. Start this week with all access for January and the perfect guided processes and journal prompts to dream up and map your best 2020 year. Inspiring Dreams Alive is the theme for Remarkable Souls.
Immediate Access for Goal/Dream Mapping.
> 4 Weeks of Soul Manifesting (4 Week Dream/Goal Mapping System) to launch your January resolutions for manifesting inside your Soul Inspired direction of what is important to you. (It is the exact system I used to launch my Monday Mantra Cards from an idea to reality within 60 days.) Imagine using this system to start 2020 with your dreams/goals aligned to shine.
> Nourishing Worthiness (journal prompts and meditations to create your manifesto) I believe worthiness is the fundamental core connection that unlocks a thriving life.
> 21 Day Prosperity Pathway to create new neuro pathways and re-calibrate from scarcity/lack programming to consistent momentum of your true prosperous spirit which is PROSPERITY (Pro-the-Spirit of You). Get inside the abundance that is you.