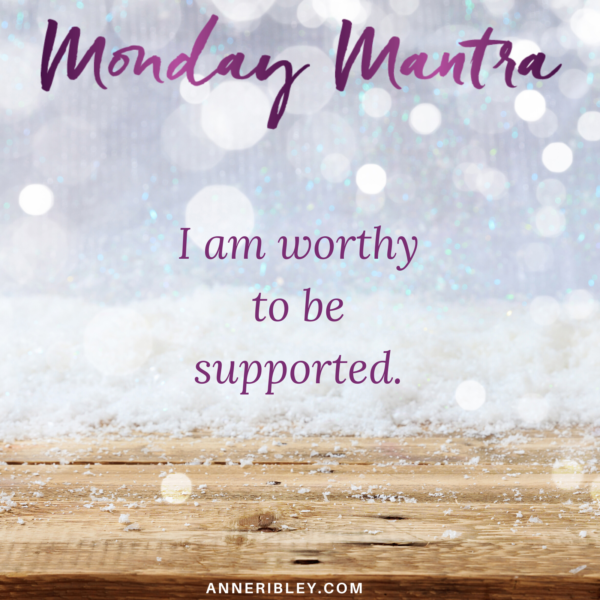 I am worthy to be supported.
This mantra is for the heightened energy with holiday week. Ask for the support you need in any and all ways it shows up for you. It could as simple as asking for help with the holiday demands. It can also be for reaching out if you feel lonely, isolated or struggling.
And this mantra can be the foundation you create your 2020 Vision for the dreams, goals and resolutions rolling out this season of your life.
No matter life situation what invites the power of this mantra for you.
Please say, know and affirm these 6 worthy words as an echo of your soul's call…
I am worthy to be supported.
You are invited to join inside Remarkable Souls on 1-1-2020 at 11:11 am PST / 2:11 pm EST for LIVE Call on Writing Your Worthiness Manifesto Plan for launching all your goals and dreams for 2020. Start this week with all access for January and the perfect guided processes and journal prompts to dream up and map your best 2020 year. Inspiring Dreams Alive is the theme for Remarkable Souls.
Immediate Access for Goal/Dream Mapping.
> 4 Weeks of Soul Manifesting (4 Week Dream/Goal Mapping System) to launch your January resolutions for manifesting inside your Soul Inspired direction of what is important to you. (It is the exact system I used to launch my Monday Mantra Cards from an idea to reality within 60 days.) Imagine using this system to start 2020 with your dreams/goals aligned to shine.
> Nourishing Worthiness (journal prompts and meditations to create your manifesto) I believe worthiness is the fundamental core connection that unlocks a thriving life.
> 21 Day Prosperity Pathway to create new neuro pathways and re-calibrate from scarcity/lack programming to consistent momentum of your true prosperous spirit which is PROSPERITY (Pro-the-Spirit of You). Get inside the abundance that is you.
Hope to see you as a soul member on 1-1-2020 @ 11:11 PST. www.soulmember.com

#divinepairing

#manifestingmatching

#dreamalive2020
7 Easy Steps of How to Do A New Moon Ritual