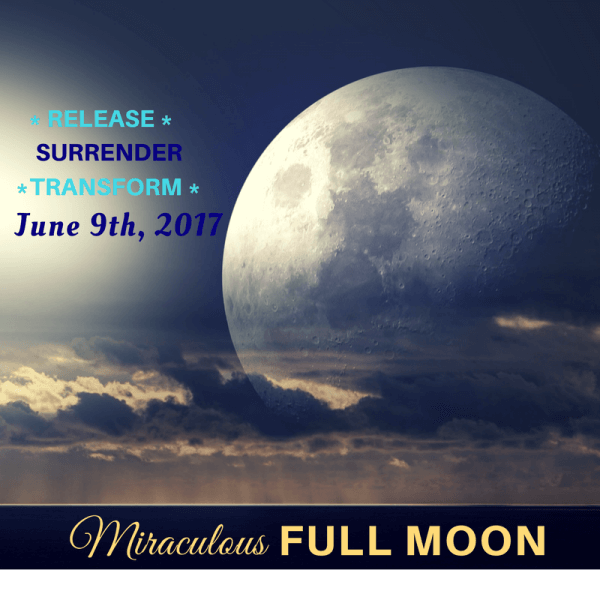 ~ June 9th ~
Miraculous
Full Moon 
This weekend, you may have a powerful alignment of new beginnings as you release, surrender and transform to new chapters of your life! 
This full moon is about shining the light with the power of love to release, surrender and transform. Take the time to "write it right" with pen to paper, antenna to God.  Release, surrender and transform with the Miraculous Full Moon Ritual.
JUNE MIRACULOUS FULL MOON FOCUS:
1. RELEASE JUDGEMENTS. Whatever have been heavy energies around the weight of some life situation, circumstance or that has held judgment saying, "This should be different…", it's time to release and let go of whatever is blocking your energy flow.  Surrender to more expansive energy that embodies deeper self-love and respect.
"I must undertake to love myself and respect myself as though my life depends on self-love and self-respect." ~ Maya Angelou
2.  SURRENDER TO THE SOURCE OF BEING.  Create a sacred space for soulful connection this weekend, and surrender closer to the source of your being. Trust in the healing wisdom that will give you a leap of faith in the Universe's ability to naturally support your soul's movement in grace.
3. ALIGN TO TRANSFORM.  It's time to align to what is ready for you to expand and transform. Allow the transformations you seek by aligning to your personal healing season this time with masculine and feminine energy structures. As we approach an upcoming super new moon in June, use this powerful to time to align. Release. Surrender. Your miraculous transformation is already imprinted in your soul.
Allow this aligning time of boosting lunar movement to help you get into natural synchronization with your own true nature and the nature around you.
Surrender to your greatest transforming source to shine.
Shine on~
Namaste,
Anne